James 'Bud' Curry

Send a link to a friend
[March 19, 2009] SPRINGFIELD -- James A. "Bud" Curry, 79, of Springfield, formerly of Lincoln, died Wednesday, March 18, 2009, at 9:55 p.m. at St. John's Hospital.
Visitation will be 5-8 p.m. Friday at Fricke-Calvert-Schrader Funeral Home in Lincoln. His funeral will be at 10 a.m. Saturday at the funeral home, with Dustin Fulton officiating.
Burial will be in New Union Cemetery, Lincoln.
Mr. Curry retired from PPG Industries in Lincoln in 1991 after 38 years.
He served in the U.S. Army during the Korean War.
He was born April 9, 1929, in Sterling to James Albert and Althea Irene Bull Curry Sr.
He is survived by three sons, Greg (and Lisa) Curry of Lincoln, Jeff (and Jackie) Curry of Lincoln and Rob Curry of Lincoln; one daughter, Suzi (and Roger) Alsup of Lincoln; a daughter-in-law, Ann Curry of Elkhart; one sister, Lelia-Belle Curry of Bowling Green, Mo.; his companion, Loine Coe of Springfield; 17 grandchildren; 11 great-grandchildren and one step-great-grandchild; a niece, Rosalind Pellikaan of Missouri; and many other nieces and nephews.
He was preceded in death by his parents; three sons, Jim, David and Michael Curry; one sister; four stepbrothers; and three stepsisters.
He attended Westside Christian Church in Springfield and was a former member of Lincoln Christian Church.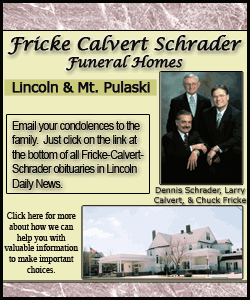 Bud was raised from childhood at the Lincoln Odd Fellows Home.
He had a love for dancing and auto racing.
Memorials may be made to Ronald McDonald House or the donor's choice.
Click here to send a note of condolence to the Curry family.