Over 80 percent of cancers are diet-related, and one out of three women and one out of two men will develop cancer in their lifetime. Half the women don't get enough calcium to support healthy bone structure, which leads to osteoporosis, hip and spine fractures that affect more than 25 million people. Forty percent of Americans are deficient in iron, which is essential for energy and red blood cell production, and 50 percent are deficient in B6, which leads to fatigue and depression.

Increasingly sedentary lifestyles and a modern diet high in calories, refined sugars, and saturated and trans fats have left millions of people at risk for excess weight gain and elevated blood sugar levels. Left unchecked, these conditions are producing epidemic rates of obesity, diabetes and other debilitating illnesses.

The focus --- more nutrient-dense foods such as fresh fruits and vegetables; whole, fortified and fiber-rich grain foods; low-fat and fat-free milk, cheese and yogurt; lean meats, skinless poultry, fish, eggs, beans and nuts. These slow foods that take more time to digest will increase the rate of metabolism over processed, refined foods and fast-food choices.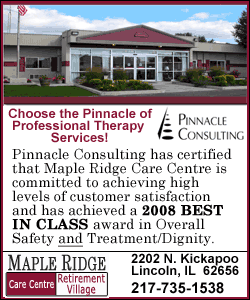 Even microwaves zap vital vitamins and minerals from food. The ability to get proper nutrient intake from the food consumed is also challenged in that our soils are being depleted, and many of the foods raised today are not as nutrient-dense as they once were.
Proper supplementation is critical in today's world to provide the foundation to prevent health problems before they occur. Obtaining optimal nutrition through supplementation is the link to a longer, healthier, more vibrant quality of life.
For more information, contact a nutrition expert: Donna Bishop, M.S., R.D., L.D.N., at 217-648-2915.
[Text from file received from Donna Bishop]