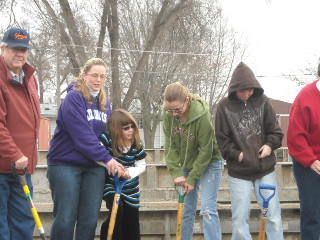 Habitat breaks ground on Mount Pulaski home

Send a link to a friend
(L-R: Dawn, Maddy, Hannah and Brady Skaggs break ground. Maddy and Brady are cousins of Dawn)
[March 24, 2009] MOUNT PULASKI -- "It's a beautiful day!" Not the kind of greeting most people would have expected at an outdoor ceremony on a drizzling, overcast Sunday afternoon. But everyone in attendance could echo the sentiment. It was a beautiful day for the groundbreaking of the newest Logan County Habitat for Humanity home, the third in Mount Pulaski and the 13th for Logan County. And it was Tonita "Toni" Reifsteck, president of the Logan County chapter, who began the ceremony with those words, standing on a tree stump in a slight drizzle. But the weather had little impact on the 20 to 30 people who gathered to commit their efforts to the project before them.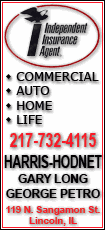 Dawn and Hannah Skaggs are the proud new homeowners at 511 S. Lafayette St. in Mount Pulaski. Of course, the property currently boasts a mere hole in the ground, surrounded by freshly poured concrete footings and basement walls. But the really hard work for Skaggs is just beginning. While Ms. Reifsteck boasts that Dawn has most likely already put in the 250 total required number of service hours, Dawn knows there will be at least 100 hours spent on the work for her new home.

"I learned about Habitat for Humanity from Teena Lowery, who got George Dahmm to give me more information and get me involved," Dawn said. "I spent most of my working hours so far on Dawn Ferguson's home in Lincoln."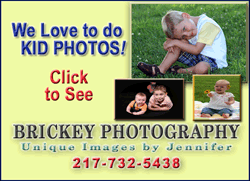 Those approved for the program must provide a down payment of $500 and pay a monthly mortgage payment. In addition, they must work at least 250 hours of volunteer time, including 100 hours on their own home.
Also attending the groundbreaking was homeowner Adam Cheatham, who has been through the Habitat program.
Family members were there as well, and all turned a spade of dirt. Grandmother, mother, father, aunt and sister … even Dawn's niece and nephew picked up shovels.
"The best thing is that the property is right next to her mom's (Jo Skaggs') house," Dawn's aunt said.
Mayor Bill Glaze also participated and mentioned that he is working on finding a site for another Habitat home. "This is a great thing to come to our community," he said. "We need more."
In addition, he announced that the city would be helping with more than just donating the land. "We have a group of kids from FFA coming out to help in exchange for a donation from the city," he said. "The city will pull the stumps in front and put in a sidewalk."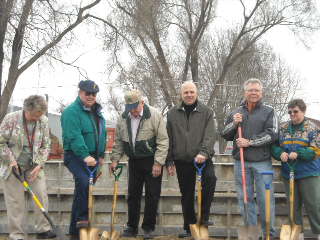 Habitat board members turn a shovel.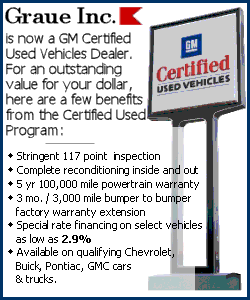 Reifsteck remarked that the blessing on the house, typically scheduled near completion day, will happen but will not be announced until closer to the time. "We don't set dates like that," she smiled. "Too many things can happen to delay it. Let's just say, it will be before snowfall!"
Allen Shew, treasurer for the group, announced that the work will begin in April, running every Friday and Saturday as long as it takes. He welcomes volunteers and encourages them to call him so he can arrange work. His daytime phone number is 217-732-4605 and the evening number is 217-732-6488.
"If you've noticed that this house is number 13, don't worry," Shew joked. "We're calling it number 12 15/16." (That is contractor humor. If you don't get it, you might want to visit the local lumberyard and ask how big a two-by-four is.)
In addition to manual labor, Habitat could use additional help with the following:
Donate food for on-site workers.

Contribute professional skills such as architectural, legal, financial, technical and public relations.

Run errands during construction projects.

Help on-site with cleanup and painting.

Donate land.

Donate money for materials.

Help with fundraising activities.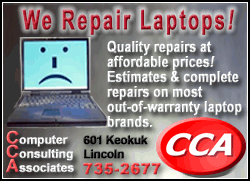 [By JO HILLIARD]
For more information on Habitat for Humanity, call 217-732-6412 or visit www.hfhlogancounty.com.