Michael Caplinger

Send a link to a friend
[March 25, 2009] Michael Patrick "Mike" Caplinger, 42, formerly of Lincoln, died Monday, March 23, 2009, at his home in Springfield.
His graveside service will be at 10 a.m. Saturday at Zion Cemetery.
Holland Barry and Bennett Funeral Home is handling arrangements.
He was born July 23, 1966, in Lincoln to Richard and Donna Fletcher Caplinger.
He is survived by his father, of Lincoln; his mother, of Springfield; one daughter, Pamela LeAnne McCullough of Mesa, Ariz.; one granddaughter, Kelsey McCullough of Mesa, Ariz.; one brother, Richard Ray Caplinger of Evansville, Ind.; two sisters Tami Lyn Kennett of Lincoln and Leslie LeAnn Hart of South Pekin; two stepbrothers, Lou Osnowitz of Atlanta, Ga., and Michael Romer of Mount Pulaski; and two stepsisters, Diane Sizemore of Mount Pulaski and Cindy Romer of Lincoln.
He was preceded in death by his grandparents.
He attended St. Joe's Catholic Church in Springfield. He had a strong faith and was an avid reader of the Bible, being able to quote many passages from God's Word.
Mike was an avid horseman. He had worked with trotters and pacers since the age of 10. He was also an avid stamp and coin collector as well as a Civil War buff.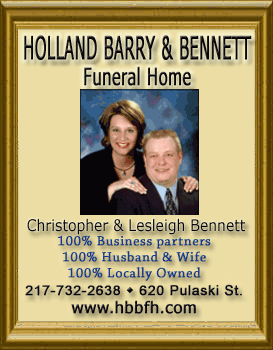 In lieu of flowers, memorials may be made to the American Diabetes Association or to the family to place in a trust for his granddaughter, Kelsey.
Click here to send a note of condolence to the Caplinger family.