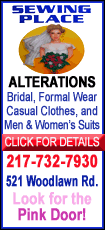 There was a steady, sometimes even heavy rain with some rather uncomfortable wind gusts.

In spite of the inclement conditions, this tiny community was literally packed to the gills with bidders and spectators for what has been an annual event for the past 37 years, the Lake Fork Community Consignment Auction.

The day began in the wee hours of the morning, as the community center board members and volunteers manned the kitchen in the basement of the retired school building.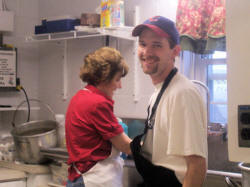 They brewed coffee, made hot chocolate, prepared pancake batter, fried sausage, made gravy and got everything in order to open up and start serving breakfast by 7 that morning. They continued their efforts until evening, when they stopped serving around 4 and began the process of cleaning up.
Outside, auctioneer Mike Maske and several other auctioneers, who all volunteer their time to the event, were getting organized to conduct one of the largest consignment auctions this area has ever seen.
Bidders started arriving early, many before 7. They got their bidding numbers and a bite to eat; then at 9:30 the real fun began.
"We started with seven auctioneer trucks," Maske said. "Each truck had a driver, clerk, one or two helpers holding up items, and a member of the local Boy Scouts running the sheets back to the cashier in the school."
He said that the efforts of the auctioneers and their crews were greatly appreciated, and he acknowledged each one: "Area auctioneers that donated their time were Chase Brown from Warrensburg; Gary Morris of Lincoln; Richard Leach from Springfield; Dan White of Lincoln; Ed Voyles from Beason; Les Payne at Atlanta; Gail Quick from Decatur; John Lauranzana III from Springfield; Ryan Hildebrand and Steve Fogler come in from Danvers; Dan Burton is from South Wilmington; Bill Huchens of Palmyra; Bernie Bree of San Jose; and myself."
He adds, "The great thing about the whole story is that everyone donated their time -- no one drew a dime."
Bob Shanle, who clerks for Maske, and Marty Clementz, who works for Central Illinois Ag in Atlanta, sells farm equipment in the area and is referred to by Maske as another greatly appreciated volunteer who "has been a friend of the Lake Fork Community Center for many years," spent a lot of their day working in the clerk trailer, where potential buyers sign in for their bidder numbers.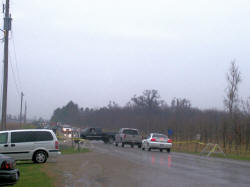 During the day, nearly 1,100 people signed up for a bidder number, in spite of the nasty weather. When asked about the turnout and how the weather affected the sale, Shanle said that auctions are held and people come to them regardless of the weather. "In 44 years of working auctions, I've never seen a single one canceled due to weather," he said.
The Lake Fork auction is known not just locally, but all over the state, and even the country. Shanle and Clementz said that during the bidder registration there were several folks from out of state who took a number.
Off the top of his head, Clementz said he recalled specifically folks from as far away as New Mexico registering to bid.
Items up for auction vary from year to year but generally include wagonloads of housewares, dishes, lamps and other miscellaneous items, plus furnishings such couches, chairs, tables and bedroom sets.
Outdoor equipment might include anything and everything from push lawn mowers or garden tillers all the way up to farm tractors, plows, field sprayers and more.
Many folks came to the sale in order to buy, but they also came to watch and visit.
"Even with the rain we had a very good sale," Maske said. "I think that we had somewhere around 2,000 people on the grounds Saturday. The number of items sold were down -- which you would have expected because of the early week forecast. Fewer people wanted to risk rain damage on their property."
While the auction was going on outside, the basement of the community building was constantly buzzing with folks sipping coffee or hot chocolate and eating pancakes and sausage or biscuits and gravy, while they visited with friends and acquaintances they've made over the years.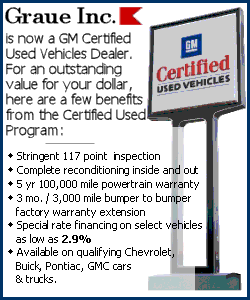 In the kitchen, Mary Riddle, who was in charge of that portion of the day, worked side by side with several volunteers keeping food and drinks going out to hungry, thirsty and cold customers.
Riddle said that she really appreciated everyone who volunteered and that there were so many she hesitated to name them for fear of forgetting someone.
She also added that this year when they were looking for volunteers, they sought out several of the younger folks in the area and were pleased to no end when many agreed to help.
She emphasized that the future of the event and the community center revolves around getting the younger generations interested and involved.
Riddle said that the turnout for food was tremendous, citing that they ran out of biscuits before noon. While the biscuit bakers kind of lost count at 1,000, she knows they went well beyond that number. She also said that the "hot item" of the day was the hot chocolate.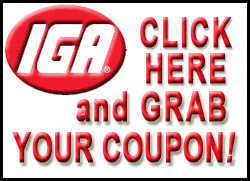 In addition to the food in the basement, there was a concession stand outside that offered beverages and sandwiches for the die-hards who couldn't bear to leave the action, and during the week of the auction they sold meat and cheese.
In a consignment auction, those who bring in the items to sell get the lion's share of the proceeds. The balance of the auction revenue, along with the proceeds from the food, goes to support the community center building and center activities.
Riddle said that insurance and utilities to keep the building open take up a lot of the annual budget. She explained that insurance costs are higher because they have an outdoor playground, which is open to the public.
This past year though, there was enough money in the coffers to do some remodeling on the building. They replaced the old boiler-style furnace, added air conditioning, replaced some windows and put fresh paint on the walls.
She said that the building is always available for rent, not only the kitchen area, but rooms on the second floor as well, and it is generally booked well in advance.
Other things that are done with the money they raise include community activities. For example, they host a community Halloween party each October and have a community potluck in December with a special guest of honor, Santa Claus, in attendance with treats for everyone.
In addition, the community building is offered free of charge to families in bereavement. Sue Stewart, who also serves on the community board, said that she feels this is one of the most important things they do at the center. Having a clean, spacious area for families to gather after a funeral allows those families the opportunity to relax, enjoy a good meal, fellowship with friends and family, and reminisce about their lost loved one.
In an article published in November by LDN, the community of Lake Fork was called "mighty" -- mighty small, mighty friendly and mighty determined to keep its residents close-knit and its little community center open and available to anyone who has need of it.
This is still a correct description of the town and its people, who show by example what can be accomplished when a community is determined to stay strong in spite of its size.
[By NILA SMITH]
Related past article