Send a link to a friend
[May 07, 2009] Imogene H. Devore, 87, of Lincoln, died Wednesday, May 6, 2009, at 2:50 a.m. at Abraham Lincoln Memorial Hospital.
Her funeral will be at 10 a.m. Saturday at Fricke-Calvert-Schrader Funeral Home in Lincoln, with Walt Harper officiating. Visitation will be one hour prior to the service.
Burial will be in Kline Cemetery, Broadwell.
Mrs. Devore was a former cashier at Eisner Food Store.
She was born Dec. 2, 1921, to Holly and Virginia White Kennedy. She married Harold Devore in Iowa on Aug. 13, 1940. He preceded her in death on May 1, 2001.
She is survived by three sons, Larry (and Brenda) Devore of Lincoln, Ronald Lynn (and Marcy) Devore of Lincoln and Harold Louis (and Charlene) Devore of Bourbonnais; 15 grandchildren; and several great-grandchildren.
She was also preceded in death by one Linda Coffey, and two brothers. She was the last of her immediate family.
She was a member of Broadwell Christian Church and the Red Hat ladies' club.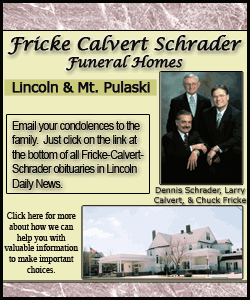 Memorials may be made to the American Heart Association or Broadwell Christian Church.
Click here to send a note of condolence to the Devore family.