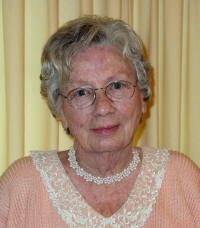 Juanita Rentshler

Send a link to a friend
[May 12, 2009] ROCHESTER -- Juanita Vail Rentshler, 84, of Rochester, died Monday, May 11, 2009, at 9:30 a.m. at St. John's Hospice in Springfield.
Visitation will be from 9:30 to 11 a.m. Thursday at Fricke-Calvert-Schrader Funeral Home in Mount Pulaski. Her funeral will follow at 11 a.m., with Pastor Kevin Treptow officiating.
Burial will be in Mount Pulaski Cemetery.

Mrs. Rentshler is survived by her husband, Delmar Rentshler; one son, Alan Rentshler; and his wife, Janet.

Her son Roger preceded her in death in 1998 at age 54.

She was born in Mount Pulaski on July 4, 1924, and named Ethel Juanita, daughter of Ethal and William Vail.

She grew up in Mount Pulaski and helped her mother at Vail's Food Market. Her father died in auto garage explosion in 1941. She was Logan County Fair queen in 1942.

Juanita married Delmar Rentshler on June 2, 1943, at Mount Pulaski Methodist Church, with the Rev. Neumyer officiating. She and Delmar moved to Charleston, W.Va., when he was employed with U.S. Rubber Co., working in synthetic rubber research. Juanita moved to Westwood Village, Calif., in 1943 with Delmar when he attended UCLA for the Navy. Their son Roger was born April 1, 1944, in the hospital at Santa Monica, Calif. They then moved to Whidbey Island, Wash., where Delmar was assigned to the U.S. Naval Air Station until his overseas orders. During that time Juanita and son Roger lived with her sister and her husband, Wilma and Harry Long, in Mount Pulaski.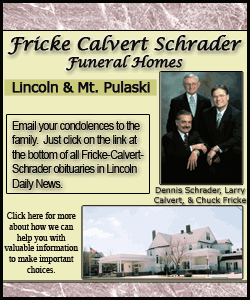 When Delmar was released from the Navy, they moved to Decatur. Another son, Alan, was born there in 1950. The family lived in Decatur for 25 years while Delmar was employed at A.E. Staley. They then moved to the Chicago area when Delmar worked as manager of Staley's Chicago Board of Trade office.
Juanita and Delmar retired to the family farm near Rochester, where she enjoyed gardening, cooking, travel, activities in nearby Springfield and frequent visits to Mount Pulaski, visiting friends and attending to her family's graves.
Memorials may be made to the United Methodist Church of Mount Pulaski.
Click here to send a note of condolence to the Rentshler family.