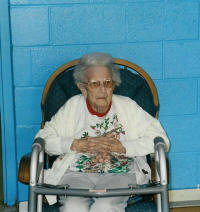 Margaret Kirby

Send a link to a friend
[May 12, 2009] McLEAN -- Margaret F. Kirby, 94, of McLean, died Monday, May 11, 2009, at 10:25 a.m. at Hopedale Medical Complex in Hopedale.
Her graveside funeral service will be at 10 a.m. Thursday at the McLean Cemetery, with Tony Billingsley officiating.
Arrangements are by Quiram-Peasley Funeral Home of Atlanta.

Mrs. Kirby worked as a telephone operator in McLean and later as a waitress at Dixie Truckers Home.

Margaret Frances See was born July 16, 1914, in Timberville, Va., the daughter of Ollie See.

She is survived by four children, Ronnie (and Sue) Kirby of McLean, Niki Leach of McLean, Maury (and Linda) Kirby of Heyworth and Lonnie Kirby of McLean; 12 grandchildren, Lonnie L. Kirby II, Steve Leesman, Pam Page, Kelly Mutters, Levi Kirby, Reggie Kirby, David Leach, Dawn Smith, Mark Kirby, Eric Kirby, Laurel Estes and Ken Kirby; several great-grandchildren; and several great-great-grandchildren.

She was preceded in death by one daughter, Marlene Leesman, and a son-in-law, Jerry Leach.
Mrs. Kirby was a member of McLean Christian Church.
Memorials may be made to her church or to Mount Hope-Funks Grove Fire and Rescue Department.
Click here to send a note of condolence to the Kirby family.