Larry Drummond

Send a link to a friend
[October 30, 2009] Larry W. Drummond, 57, of Lincoln, died Friday, Oct. 30, 2009, at 1:50 p.m. at his home.
His graveside service will be on Nov. 7 at 11 a.m. at Harmony Cemetery in Beason, with the Rev. John E. Nelson officiating. There will be military rites at the cemetery.

Cremation rites were conducted and arrangements were handled by Fricke-Calvert-Schrader Funeral Home in Lincoln.

Mr. Drummond worked for Landers Trash and Garbage Service and later for Brinks Security.

He served in the Marines during the Vietnam War. Later he enlisted in the National Guard, retiring in 1993. He also served in the U.S. Army Reserves from 1975 to 1978.

He was born Nov. 29, 1951, in Peoria to Frank and Jessie Anderson Drummond. He married Peggy Lee Landers on July 1, 1972, in Pekin. She preceded him in death on July 2, 2006.

He is survived by two sons, Scott Drummond (and Maggie Aue) of Hampton, Va., and Christopher Drummond (and Sheila Allen) of Lincoln; two daughters, Jennifer (and Chris) O'Connor of Riverton and Stephanie Murphy (and Doug Ragland) of Lincoln; two brothers, Ted Drummond of Springfield and Jeff Drummond of Dallas, Texas; two sisters, Lisa Drummond of Springfield and Wanda (and Mike) Glessner of Waterloo; two brothers-in-law, Walt (and Julie) Landers of Lawndale and Bill Kasebier of Springfield; a sister-in-law, Jean (and John) Tripplett of Middletown; and 11 grandchildren.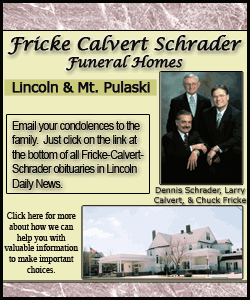 He was also preceded in death by his parents.
Memorials may be made to the Drummond family.
Click here to send a note of condolence to the Drummond family.