Margaret Minder

Send a link to a friend
[November 23, 2009] Margaret I. Minder, 85, of Lincoln, died Sunday, Nov. 22, 2009, at 12:25 p.m. at St. Clara's Manor.
Visitation will be 4-6 p.m. Friday at Zion Lutheran Church in Lincoln. Her funeral will be at 10 a.m. Saturday at the church, with the Rev. David Ramirez officiating.
Burial will be in Hartsburg Union Cemetery, Hartsburg.

Arrangements are by Fricke-Calvert-Schrader Funeral Home in Lincoln.

Mrs. Minder was a homemaker.

She was born Jan. 15, 1924, at Burton View to Peter T. and Minnie Meyer Hamer. She married Earl F. Minder on Jan. 20, 1946, in Lincoln. He preceded her in death on March 1, 1997.

She is survived by one stepson, Richard "Dick" (and Doodie) Minder of Henderson, Nev.; one nephew, Dale (and Pat) Osborn of Lincoln; one niece, Sandra (and Robert) Young of Springfield; seven stepgrandchildren; and eight step-great-grandchildren.

She was also preceded in death by one sister, Dorothy Osborn, and one stepson, Tom Minder. She was the last of her immediate family.

She was a member of Zion Lutheran Church of Lincoln, having been a member of the mission society, altar guild, the choir for over 40 years and the evangelism committee for a number of years.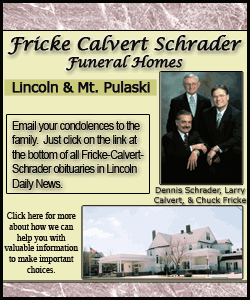 She graduated from Lincoln Community High School.
Memorials may be made to Zion Lutheran Church or Zion Lutheran School, both in Lincoln.
Click here to send a note of condolence to the Minder family.