Raymond Cooper

Send a link to a friend
[November 25, 2009] Raymond P. Cooper, 62, of Lincoln, formerly of Lockport, died Monday, Nov. 23, 2009, at 6 a.m. at his brother's home in Lincoln.
Visitation will be 4-7 p.m. Friday at Fricke-Calvert-Schrader Funeral Home in Lincoln. His funeral will follow at 7 p.m., with the Rev. Jeff Laible officiating.
Mr. Cooper retired from Stateville Correctional Center in Lockport, where he worked from 1969 to 1999 as a supply supervisor.

He was born Nov. 29, 1946, in Decatur to Dudley and Severina Maria Rodriquez Cooper. He married Vicki St. Clair in 1968 in Paris, Ill., and they were later divorced.

He is survived by one son, Chris (and Tammy) Cooper of Shorewood; one daughter, Amy Cooper of Joliet; one brother, Robert Cooper of Lincoln; and two grandchildren, Jacob and Devyn Ward, both of Joliet.

He was preceded in death by his wife Janet, his parents and fiancee Marilyn Quinn.

He was of the Catholic faith.

He was a founding member of the 36th Illinois Regiment and a member of the Illinois Police Association, Masonic Lodge and Moose Lodge.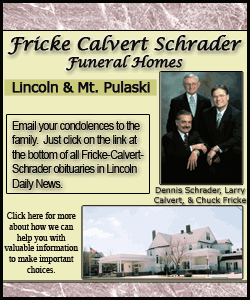 He was an avid bass fisherman and rifleman.
Memorials may be made to the American Diabetes Association or American Kidney Foundation.
Click here to send a note of condolence to the Cooper family.