Alice Lester

Send a link to a friend
[November 25, 2009] Alice M. Lester, 100, of Lincoln, died Wednesday, Nov. 25, 2009, at 11 a.m. at Abraham Lincoln Memorial Hospital.
Her funeral will be at 2 p.m. Saturday at Lincoln Christian Church, with Ron Rector officiating. Visitation will be one hour prior to the service.
Burial will be in Union Cemetery.
Arrangements are by Fricke-Calvert-Schrader Funeral Home in Lincoln.
Mrs. Lester was a retired schoolteacher. She had taught 40 years in various schools.
She was born May 31, 1909, in DeWitt County to Charles and Edith Swisher Marvel. She married Kenneth Lester. He preceded her in death in September 1956.
She is survived by one son, Charles (and Phyllis) Lester of Columbia; three grandsons, Rodney Theobald of Lincoln, Kevin (and Debbie) Theobald of Lincoln and Jeffery (and Kelly) Lester of Kirkwood, Mo.; two granddaughters, Brenda Fields of St. Charles, Mo., and Pamela Taff of Eureka, Mo.; eight great-grandchildren; one great-great-grandchild; and one sister, Arlene Totten of Sterling.
She was also preceded in death by one daughter, Carol Theobald; one brother, Walter Marvel; two sisters, Zelda Marvel and Martha Webb; and one granddaughter, Rhonda Rae Theobald.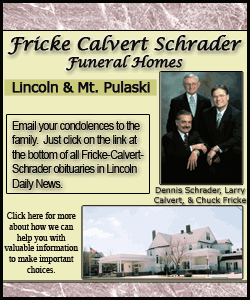 She was the oldest living member of Lincoln Christian Church. She was also a member of the Maroa Christian Church and the Retired Teachers Association.
Memorials may be made to Lincoln Christian Church or Maroa Christian Church.
Click here to send a note of condolence to the Lester family.