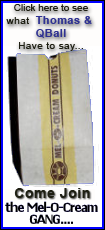 Pujols received all 32 first-place votes in balloting announced by the Baseball Writers' Association of America on Tuesday, taking the NL prize for the second straight year and third overall.
Musial, also a St. Louis Cardinals star, won three times in the 1940s. Seven others have won exactly three MVPs and only Barry Bonds has more, with seven.
"Wow, I'm in the same place as Stan Musial," Pujols said. "It's pretty special to be on the same list with those guys."
Pujols, who also won in 2005, became the first player to repeat since Bonds won four in a row from 2001-04. He was the first unanimous MVP since Bonds in 2002.
The 29-year-old Pujols said he felt nerves before the announcement, even though he led the majors in several key offensive categories, including home runs with 47.
His slugging percentage of .658 was also the best in baseball, and his on-base percentage of .443 was a point behind AL MVP Joe Mauer's, enabling him to carry the Cardinals' offense all year, even before they traded for slugger Matt Holliday in July.
"It's hard to argue with Albert's numbers," Cardinals general manager John Mozeliak said. "He's been spectacular."
Florida's Hanley Ramirez, the NL batting champion, was second with 233 points, followed by Philadelphia's Ryan Howard (217) and Milwaukee's Prince Fielder (203), who tied Howard for the big league lead in RBIs at 141.
"Was I nervous about this day? Yes, I was. You can't wait," Pujols said. "Watching Joe Mauer get his award, I was thinking 'Is that going to be me tomorrow having a press conference?'"
Last year, Pujols won a much closer race and had 18 first-place votes to finish ahead of Howard despite the Cardinals' fourth-place finish. This year, the Cardinals won the NL Central.
Last week, a pair of Pujols' teammates fell just short in voting for the NL Cy Young Award. Chris Carpenter came in second to Giants ace Tim Lincecum despite a league-best ERA of 2.24, and Adam Wainwright was third despite leading the league with 19 wins and receiving the most first-place votes.
Pujols, however, ran away from the competition.
Even a late power drop-off didn't hurt him. Pujols didn't homer in his final 89 at-bats, counting the postseason, after connecting twice on Sept. 9. He had surgery last month to shave a bone spur and remove bone chips from his right elbow after fearing there was a "95 percent" chance he'd need ligament replacement, which would have sidelined him the first half of next season.
Pujols has played with a partially torn elbow ligament since 2003 and said the elbow bothered him intermittently the last five months of the season. But he refused to use that as an excuse, noting he was still driving the ball at the end -- just not out of the park.
"I struggled for 15 games without a homer but wow, you guys were going crazy," Pujols told reporters. "If you want to point at the elbow you can do that.
"I wasn't expecting myself to be hot for six months. I struggled towards the end and if I can struggle again next year like that, then I'll take that every year."