Lincoln used a 20-8 run in the fourth quarter to finally pull away from pesky Danville and capture a 69-54 win over the Vikings. The game was a tennis match on a basketball court. The Railers would run off a string of points, only to see Danville close the gap. Back and forth the teams went until finally, in the fourth quarter, Lincoln used the best run of the night to get the win.

Wednesday night's game was much different from opening night -- too many turnovers, forcing shots, not taking the opportunity to take time off the clock.
Coach Neil Alexander was glad to get the win but not happy with how his squad got there. "This was not how we practice. This is not coaching, especially my teams," Alexander said. "I've not had many games where we played like this. We took too many bad shots, quick shots, too many turnovers; we just didn't play smart."

Did I mention the Railers won? Yes, they won, but there was an air of uneasiness from the crowd filing out into the November cold. They watched their team win but realized a performance like this in games against two of the top three teams in the state this weekend could leave the Railers on the outside looking in when it comes to playing for this year's Eaton Electrical Tournament championship.
Tonight, it was the shooting of Jordan Nelson and the all-around game from Nathaniel Smith that got Lincoln the win.

Nelson finished with a career-high 30 points on 9- of-17 shooting, including 6 of 9 from 3-point range. Nelson also established himself on the defensive end by leading the team with five steals.
On this night, each time Lincoln needed a big shot, Nelson was the one stepping up. After Lincoln took a 35-27 lead at the half, thanks to a 7-0 run, it seemed like the Railers would finally be getting away from Danville. However, Danville had other thoughts and used their own run of eight points to tie the game at 35.
Coach Alexander called timeout at the 5:20 mark of the third, and he was the only one talking in the huddle. Animated may be an understatement, but the point was made. Like any well-coached team, Lincoln came out of the timeout and scored on the out-of-bounds play, as Nelson took a pass after a quick cut to the basket to put the Railers up for good. Smith then scored the next five points to give Lincoln a 42-35 lead.

Again, like your little brother that just won't go away, neither would Danville. The Vikings scored six straight to get back within one, but Nelson scored seven straight to end the third-quarter scoring for Lincoln, including a four-point play to put Lincoln up 49-41. In fact, Nelson's 23 through three quarters set his career high with still a quarter to go.

After a Reuben Bowlby basket to start the fourth, the rest of the scoring for Lincoln was done by the threesome of Nelson, Smith and Ben Brackney. The trio combined for 18 points in the fourth to finally put Danville away.
However, another area of concern was the inability to find the hot shooter. "We did OK once we identified No. 14 (D'Lando Carter) as their shooter," Alexander said. "I mean, it only took us 28 minutes to do so. This is the type of things we can't do and expect to win against teams like Althoff and Centennial."

Smith, a junior, had a solid game, finishing with 15 points, five rebounds and four steals. Ben Brackney, who tied his career high on Monday with 22, did not have his best game, even though he finished with 14 points. Brackney was 5 of 12 from the floor, led the team in rebounds with seven and assists with five.
It may be a case where if two of the three are scoring, Lincoln can win. If they are all on, they may be able to dominate. Hopefully, as the weekend, and season, wears on, fatigue will not be an issue. Brackney, Smith and Nelson all played the entire 32 minutes. This after they all played at least 30 minutes on Monday night. At some point, they are going to need to find minutes on the bench or the three will be exhausted by mid-January.

One positive from Alexander was his thoughts on the guys down low. "I'm really pleased with our '5' guys (Brant Coyne and Reuben Bowlby)," Alexander added. "I think they have been the one positive so far in the two games." Coyne scored six and added six rebounds, while Bowlby chipped in with four points.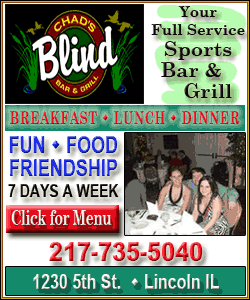 Lincoln's win over Danville kept them atop the tournament standings along with Belleville Althoff and Champaign Centennial, all at 2-0. In fact, it seems destined that these three teams will be grouped together all season. The teams took to the court tonight as the top three teams in the state of Illinois in Class 3A (1. Centennial, 2. Lincoln, 3. Althoff). Earlier in the night at Roy S. Anderson, Centennial routed Rochester 86-37, while Althoff handled Cahokia 83-63 down in southern Illinois.

Lincoln's next game will be Friday night against No. 3 Belleville Althoff. Game time is scheduled for 8:30 p.m. and, as always, you are invited to check in Saturday morning for a recap of the contest.

Happy Thanksgiving to everyone in the Railer Nation!!
___
Lincoln (69)

Nelson 9-17 6-7 30, Smith 7-11 1-1 15, Brackney 5-12 4-6 14, Coyne 3-4 0-0 6, Bowlby 1-1 2-2 4, Kirby 0-1 0-0 0, Turner 0-1 0-0 0. Team 25-47 13-16 69.
3-point FG 6-17 (Nelson 6-9, Brackney 0-4, Smith 0-2, Kirby 0-1, Turner 0-1), rebounds 28 (Brackney 7), assists 11 (Brackney 5), steals 12 (Nelson 5) turnovers 17.
Danville (54)

D. Carter 20, J. Robinson 16, Britt 6, Shaw 5, Morefield 4, Hightower 3. Team 22-52 4-9.
3-point FG 6-23, rebounds 29, assists 9, steals 11, turnovers 20.

End of first quarter: Lincoln 14, Danville 8
Halftime: Lincoln 35, Danville 27
End of third quarter: Lincoln 49, Danville 46
Other notes:
Jordan Nelson's six 3s give him 137 for his career and move him to sixth, passing Josh Komnick (134) and David Pickering (132). Next on the list is Cory Farmer, fifth with 142.

Nelson's set of six 3s also ties him for 13th for most made in a single game. It is the 29th time it has happened. Last time? Feb. 21 earlier this year by, you guessed it, Jordan Nelson.

The win was No. 431 as Lincoln coach for Neil Alexander, No. 590 overall.

It would be hard to argue that Reuben Bowlby has not been perfect. So far, 3 of 3 from the field and perfect in six shots from the free-throw line.

Big thanks to Mitch Smith, who fashioned a broadcast table for us that allows us to improve our view of the court.
[Special report by JEFF BENJAMIN]