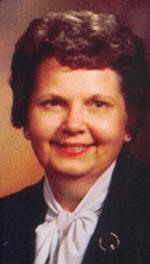 Agatha Lee

Send a link to a friend
[November 30, 2009] SHERMAN -- Agatha R. Lee, 88, of Sherman, died Saturday, Nov. 28, 2009, at 1:45 a.m. at St. John's Hospital in Springfield.
Her funeral will be at 2 p.m. Tuesday, Dec. 1, at St. John Vianney in Sherman, with Monsignor Carl Kemme officiating. Visitation will be from noon to 2 p.m.
Burial will be in Holy Cross Cemetery, Lincoln.
Arrangements are being handled by Fricke-Calvert-Schrader Funeral Home in Lincoln.
Mrs. Lee retired from Bergner's in Springfield and volunteered at the Marian Center and as a Samaritan at St. John's Hospital.
She was born July 22, 1921, at Hanson to Henry and Anna Margaret Rakers Sommer. She married James Patrick Lee on June 21, 1947, at Oconee. He preceded her in death on May 29, 1989.
She is survived by one son, Patrick (and Melissa) Lee of Lincoln; five daughters, Angela (and Stan) Anderson of Elkhart, Cynthia (and Jim) Tierney of Williamsville, Sheila (and Jack) Caldwell of Williamsville, Deanna (and Mike) Steinhauer of Dawson and Bernetta (and Randy) Polley of Springfield; two nephews whom she and her husband raised, Lyndon (and Hilary) Sommer of St. Louis, Mo., and Barry (and Dawn) Sommer of Beaumont, Texas; 15 grandchildren; and 13 great-grandchildren.
She was also preceded in death by five brothers and two sisters.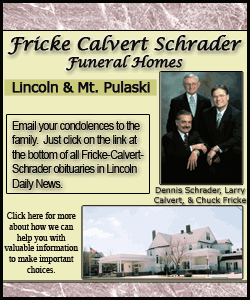 She was a dedicated Catholic her entire life and was a member of St. John Vianney Parish and Women's Auxiliary in Sherman. She served her faith by teaching religion class at St. Patrick's Parish, Elkhart, and was a former member of the Altar and Rosary Society. She was a member of the American Legion Auxiliary in Elkhart for more than 60 years.
Memorials may be made to St. Teresa Catholic High School in Decatur, St. John Vianney in Sherman or the donor's choice.