Mary Liesman

Send a link to a friend
[November 30, 2009] ATLANTA -- Mary V. Liesman, 80, of Atlanta, died Monday, Nov. 30, 2009, at 12:05 a.m. at St. Clara's Manor in Lincoln.
Her funeral will be at 10 a.m. Wednesday at Quiram-Peasley Funeral Home in Atlanta. Pastor David Ramirez will officiate.
Visitation will be at the funeral home from 5 to 7 p.m. Tuesday and for a half-hour prior to the service on Wednesday.
Burial will be in Roaches Chapel Cemetery, rural McLean.
Mrs. Liesman retired in July 1986 from the administration department at Abraham Lincoln Memorial Hospital after 30 years of service.
She was born April 8, 1929, in Bloomington to Albert P. and Leona Fagerburg Martin. She married Merle L. Liesman on Feb. 28, 1947, in Lincoln. He preceded her in death on Jan. 30, 2000, in Springfield.
Mrs. Liesman is survived by her son, Larry (and Mary Sue) Liesman of Atlanta; one granddaughter, Staci (and Jeff) Thommes of Farmington, Minn.; two stepgranddaughters, Diana (and Kevin) Parkhouse of El Paso and Hayley (and Jordan) Sax of Normal; two sisters-in-law, Diane Liesman of Washington, D.C., and Marilyn (and Ed) Bevard of Iowa; one great-granddaughter, Ali Thommes; one great-grandson, Rylan Thommes; two step-great-granddaughters, Makenna Parkhouse and Laynie Sax; and one step-great-grandson, Nick Parkhouse.
She was also preceded in death by one grandson, Jon J. Liesman; four sisters; and two brothers.
She was a member of Zion Lutheran Church in Lincoln and the American Legion Auxiliary in Lincoln.
She was a 1947 graduate of Bloomington High School.
Mary was a loving mother and grandmother who enjoyed spending time with her family. She also had many cherished friends who meant the world to her. She will be missed by all who knew her. They are thankful in the hope that she is now resting in peace with our Lord.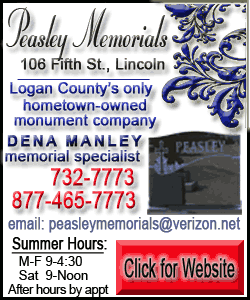 Memorials may be designated to Zion Lutheran Church in Lincoln or Roaches Chapel Cemetery, rural McLean.
Click here to send a note of condolence to the Liesman family.