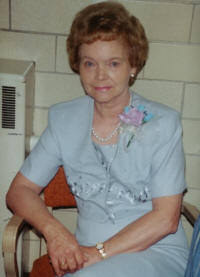 Erma Crowder
Send a link to a friend
[October 07, 2009] KINCAID -- Erma L. Crowder, 72, of Kincaid, died peacefully on Tuesday, Oct. 6, 2009, after a lengthy illness. She had put up a courageous fight against cancer and died at her home with her family by her side.
Her funeral will be at 11 a.m. Friday at Kincaid Baptist Church, with the Rev. Howard Wise officiating. Visitation will be from 9 to 11 a.m. at the church.
She will be laid to rest at Bethany Cemetery following the service.

Holland Barry & Bennett Funeral Home in Lincoln is handling her arrangements.

Erma Louise was born on Oct. 28, 1936, in Rolla, Mo., to Edward and Eva Burd Tyler. The family moved to the Mount Auburn area in Illinois in the 1940s.

Erma Tyler of Osbernville married Robert Eugene Crowder of Taylorville on June 25, 1954, in Taylorville. The Rev. Ralph Cummins officiated and Edward Tyler and Clara Crowder were witnesses. The couple had five children: Debra Ann, Robert Edward, Jeffrey Allen, Lisa Kay and Patricia Sue.

Mrs. Crowder is survived by her husband, of Kincaid; three daughters, Debbie (and husband Kevin) Corso of Tovey, Lisa (and husband Daniel) Fleming of Kincaid and Patty Owens (and companion Butch Garrison) of Tovey; two sons, Bob (and companion Kim Kohl) of Kincaid and Jeff (and companion Vauna Stahl) of Kincaid; her mother; one sister, Velma (and Don) Haslett of Springfield; two brothers, Dave (and Jean) Tyler and Fred (and Dee) Tyler of Mount Auburn; grandchildren Timothy Corso, Shannon Corso, Melanie Corso McEntire, Joshua Crowder, Jeremy Peat, Amber Peat, Brandon Crowder, Christina Peat, Michael Owens, Alisha Owens, Alexandra Crowder and Kyle Crowder; 11 great-grandchildren and three more on the way; two aunts; and many nieces and nephews.

She was preceded in death by her father in 1999, son-in-law Fritz Peat in 1992 and son-in-law Aaron Owens in 1999.

She was a member of the WIBC in Springfield. She bowled for many years in Taylorville and one year bowled on three first-place teams.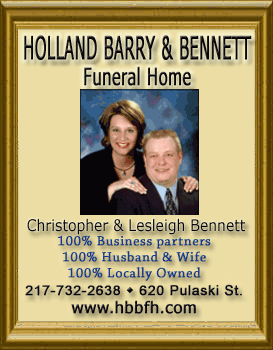 She loved playing cards with her family -- Uno and rummy with her mother and siblings and poker and Texas hold'em with her children and grandchildren. She attended several St. Louis Cardinal games and also enjoyed watching her grandsons play baseball. She loved going to the riverboat and enjoyed playing bingo. She especially enjoyed her summer vacations with her sister, traveling to many different states.
This year Bob and Erma celebrated their 55 years of marriage with a vacation in Florida.
She was a loving and devoted wife, mother, grandmother and great-grandmother. She was the caregiver for her mother-in-law, Clara Lamb, for many years. She was the strength and backbone of her family.
She was a wonderful, loving, caring and funny woman. The family says she kept her sense of humor up till the end and was the bravest person they know.
Memorial contributions may be made to the American Cancer Society or Memorial Home Hospice.
Click here to send a note of condolence to the Crowder family.