Harold Schilling

Send a link to a friend
[October 12, 2009] ELKHART -- Harold W. Schilling, 92, of Elkhart, died Sunday, Oct. 11, 2009, at 8:30 a.m. at his home.
Visitation will be 4-7 p.m. Wednesday at Fricke-Calvert-Schrader Funeral Home in Lincoln.
His funeral will be at 10 a.m. Thursday at Elkhart United Methodist Church, with the Rev. Dayle Badman officiating.
Burial will be in Elkhart Cemetery.
Mr. Schilling was a retired farmer and livestock producer.
He served in the U.S. Army Air Corps during World War II.
He was born Sept. 21, 1917, in Elkhart to Clarence and Ethel VanFossan Schilling. He married Hilma Lanterman on May 18, 1941, in Elkhart. She preceded him in death on July 17, 2002.
He is survived by one son, Robert (and Linda) Schilling of Elkhart; one daughter, Carolyn "Susie" Brooks of Elkhart; one brother, Roy Schilling of Decatur; three sisters-in-law, Lois Schilling, Eleanor Lanterman and Mary Glen Schilling; and five grandchildren, Jennifer (and Darin) Stoll, Melissa (and Nathan) Provost, Becky Liesman, LeeAnn Schilling and Kevin (and Bobbie) Schilling; and four great-grandchildren, Andrew Liesman, Hannah and Emily Stoll, and Trevor Schilling; and several nieces and nephews.
He was also preceded in death by two brothers, Ray and Clarence Jr., and one sister-in-law, Rachael Rogers Schilling.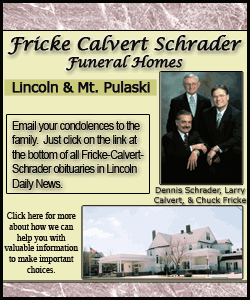 He faithfully attended the Elkhart United Methodist Church.
He was a member of the American Shorthorn Association and Farm Bureau and a former Elkhart High School board member.
He was a dedicated Cardinal fan.
Memorials may be made to Elkhart United Methodist Church or to Memorial Medical Center Foundation for cardiac rehabilitation. Memorial's address is 701 First St., Springfield, IL 62781.
Click here to send a note of condolence to the Schilling family.