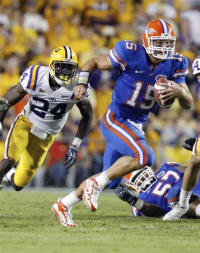 Tebow still taking some post-concussion tests

Send a link to a friend
[October 13, 2009] GAINESVILLE, Fla. (AP) -- Tim Tebow is still undergoing post-concussion evaluations.
Florida's star quarterback says that team doctors checked him out before, during and after Saturday night's 13-3 victory at LSU.
Tebow says doctors have "been checking up on me, just like any concussion." Tebow added Monday that he doesn't have to do the same thing as far as the extent of the test, but says the doctors "are still checking on me, doing little balance tests and eye tests."
His post-concussion tests before he was cleared to play Saturday included computer tests, reaction tests, eye-focusing tests, balancing tests, motion-sickness tests, MRI exams and CT scans.
The 2007 Heisman Trophy winner doesn't know when the tests will end, either. He says he just does "what they tell me."