The Heartland building is modern, bright and crisply appointed. Large for many types of businesses, the offices at 620 Broadway would be considered small by any college or university standards. But the hopes and dreams of all the students who walk through the doors at Heartland are just as big and just as important as they are at any other school of higher learning in the country.

There is a central desk that is always manned by at least one smile, and it is obvious that staff and students know each other well. For most of the students, they have gone through high school together and already have developed friendships. It is also obvious that staff members have a friendly, stress-free relationship with the students that makes the business of learning more relaxed although still important. After all, within these walls the students are working on their futures.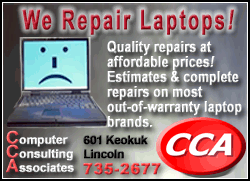 Heartland has been the community college for Logan County since 1991. For many years it could be said that it was "that other college," offering some core curriculum classes as well as specialized and adult learning. But now, with the school offering the full first year of college-accredited courses, Heartland for many area youths is "the college."
After a survey of needs in 2008, the community college made the bold move to offer a core curriculum of 101 college-accredited classes and to guarantee they would be available. The risk was: Would students come?
Now, well into the first semester, there is no question that the program called Lincoln Experience 101 is going to be a success. There is also no question how important offering these classes has been to many young people in Lincoln.
On a rainy afternoon, students gathered outside the doors, either waiting for afternoon classes or for the rain to slow down so they could make their way to their vehicles.
Caitlin Runyon and Felicia Strauch both said they are taking English 101, Psychology 101 and Sociology 101 this semester. Caitlin works at Kroger's while Felicia works at Steak n Shake, and both explained how important it was to be able to go to a community college close to home and still be able to work.
Tyson Smith is a young man who works at Cracker Barrel. He is taking English, speech and psychology classes and plans on attending LCU to finish out his education.
Nolan Lessen is a young man taking four courses while he works and is saving up money working for Wal-Mart.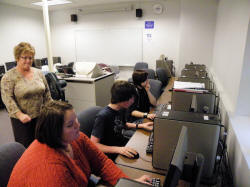 Cara Reed is taking classes at both Normal and Lincoln, six in all. Working at the Dollar Tree, Cara is determined to be a surgical nurse, and being able to stay close to home for four of her classes is important to her.
Josh Borst, whose family owns the Lincoln Bonanza, is taking a full 15 hours while still doing management duties at the restaurant, and he says the availability to take the first year at a nearby community college is "awesome." "Here I am able to pay as I go," Borst said.
Due to taxpayer support, a community college offers a least expensive choice for young men and women who perhaps are not ready financially to take on the cost of a higher education. For others the opportunity to find out what college is all about and if they are indeed college material without incurring large debt is the reason they are coming to Heartland.
Every one of the students interviewed has hopes and dreams for their future. Every one of them expressed how the lower tuition and the ability to go to college right near their homes and jobs made the decision to come to Heartland easy.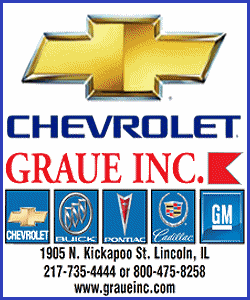 Currently, as a community college, Heartland charges area residents $88 per semester hour. That means a student taking 12 semester hours will have a tuition cost as low as $1,086 for a semester.
Although all of the students interviewed, as Logan County residents, are eligible to go to the campus in Normal, they now can get in two classes in the same amount of time the commute back and forth from Normal would take them. To a young man or woman trying to balance school with work, allowing a little time to be young, that time is precious.
The students outside the building last Tuesday are just a small microcosm of the increased enrollment at Heartland, and the program is indeed being met with enthusiasm when you look at the numbers.
Kristi Powell, site administrator for Heartland, showed that 85 students were enrolled in the fall semester of 2008. In the fall semester for 2009, 138 students are registered and taking classes. This increase was with a short window of notification to area students, letting them know that they did have an option for their first year of college. Powell is enthused that next year will show another large gain in students. "In just the first week of enrollment for the spring 2010 semester, we have had 35 students enroll," Powell said.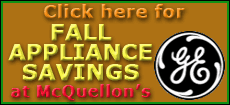 But Heartland is offering more than just a core curriculum. For some, Heartland is offering hope and possibilities regardless of age. For Patti Baird, a single mom of two children, Heartland is the only option right now in her life. Patti has transportation that she judges reliable enough for in-town driving, but she would fear having to make the commute somewhere else with a car that has seen better days. She also said that the small classes at Heartland allowed individual attention to all students, and she had to chime in that she has found her instructors to be "great."
Peggy Haseley from Heartland said that currently the oldest student enrolled is 57, but there are several adults taking courses. "We have a gentleman laid off from Mitsubishi taking courses," she said as one example.
For some, an education can open up new doors in a world where some have been shuttered, and Heartland is a place to start to find those keys.
Jennifer Cherry, an instructor at Heartland, said that the students are much like those at every college campus. Some don't know yet what they want to do, while others have a good idea of why they are at Heartland. Cherry says that students intending to go on in the nursing field seem to really be focused on why they are at Heartland.
Erin Frost from Lincoln is a former journalist now working on her doctorate at ISU. Frost is a tutor in Cherry's classes, which shows just how much assistance is available for a student to learn and to be helped with learning at the community college.
Again, the slogan for the new course offerings at Heartland is "You don't have to drive far to go far." For many current students at Heartland Community College, the beginning of their future is just around the block.
[By MIKE FAK]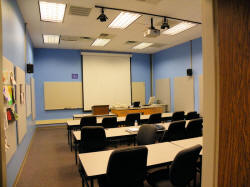 Previous related article