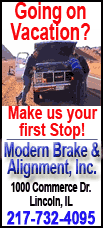 While that might be an issue for many teams in preparing for the next opponent, the situation won't be quite as drastic as the Railers get ready to host Springfield High tonight in a 7 o'clock home conference game.
"Luckily, the preparation for Jacksonville and Springfield isn't a lot different," Shaner said. "We're going to see a lot of the same offensive formations out of them and the same types of plays. So, luckily, it wasn't a huge difference for us as far as that's concerned."
While the similarities between Jacksonville and Springfield might make preparation for the game a bit easier, that won't make the actual task of winning the contest any less challenging for Lincoln (0-7 overall, 0-6 in the CS8).
"They're a good team," Shaner said of Springfield (5-2 overall, 4-2 in the CS8). "They have a big, strong offensive line. They're fast; they play straight man-to-man on defense. They're very athletic. Their defense is very aggressive; they're going to blitz you on every play from all different angles."
Although that kamikaze-style defense might cause problems for Lincoln, Shaner said the Railers might be able to use Springfield's aggressiveness to their advantage.
"They're kind of a 'big play' type of defense; they're going to make some big plays, but they're also going to give some up at times," he said. "I'm sure they'll catch us a few times and we'll have a few negative plays or plays that don't go for anything, but we should definitely be able to catch them in some blitzes too and have some plays that go pretty big for us."
While Shaner has preached -- with varying degrees of success -- to the Railers that they need to execute fundamentals as far as minimizing turnovers and using proper technique when tackling, he said the team will especially need to work as a unit to counter the Senators' all-out defensive attack.
"On offense this week, our offensive line has to get their heads up," Shaner said. "They have to be able to communicate who's going to blitz on what play and be able to pick guys up. So that's what we've really been focusing on this week -- staying in the blocks, getting our heads up, picking up those linebackers and things like that."
Defense is not the only area in which the Senators excel. Springfield quarterback Tyrell Bouldin leads the team in both passing and running yardage. The 6-foot-1 junior has completed 82 of 124 passes for 1,072 yards and 14 touchdowns while throwing six interceptions. In addition, Bouldin has gained 594 yards on 101 rushing attempts while running for nine more touchdowns.
"They've got one of the best quarterbacks in the conference in Tyrell Bouldin," Shaner said. "He is the most athletic quarterback in the conference. He can run the ball at any time, he throws it really well, he makes good decisions. He's a very, very skilled kid."
As the end of the season draws closer, injuries can begin to pile up on a team. Shaner said the Senators have been battling their share of injuries recently, and that could work to Lincoln's advantage.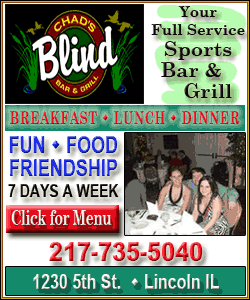 "Last week they had six starters out with injuries," Shaner said. "I believe their best running back (Mark Gilchrese) is done for the year. I think one of their receivers (Pat Doty) is done for the year. They have a couple kids that are questionable for this week. I don't know if they'll play or not, but hopefully that will play to our favor a little bit."
Injurywise for the Railers, senior Nick Haferkamp is questionable due to a wrist injury. As the Railers shuffle personnel to compensate, a ripple effect of sorts may occur as junior Stephen Duncan, Lincoln's starting quarterback, may see some action at defensive back this week. With Duncan seeing time on defense, that might bring in another play-caller on offense.
"He loves playing defense and is a pretty good defensive back," Shaner said of Duncan. "He's done the majority of our quarterback work, so we've kind of been leery to put him on defense. This week, you may very well see him a little bit and maybe (sophomore James) Leisinger a little more at quarterback."
Start time for the conference game at Handlin Field is 7 p.m. As always, Lincoln Daily News will simulcast the WLCN-FM 96.3 broadcast of the contest, beginning at 6:45.
[By LOYD KIRBY]