Betty Werner

Send a link to a friend
[October 19, 2009] Betty Jane Werner, 83, of Lincoln, died Friday, Oct. 16, 2009, at 9:40 p.m. at her home.
Her funeral will be at 11:30 a.m. Wednesday at Zion Lutheran Church in Lincoln, with the Rev. Mark Thompson officiating. Visitation will be 10-11:30 a.m. at the church.
Burial will be in Camp Butler National Cemetery, Springfield.
Arrangements are by Fricke-Calvert-Schrader Funeral Home in Lincoln.
Mrs. Werner retired in 1988 from Lehn & Fink, where she was a line worker.
She was born July 27, 1926, in Louisville, Ky., to Lloyd and Edna Burge Sandidge. She married Robert G. Werner on March 8, 1945, in Louisville, Ky. He preceded her in death on June 19, 2009.
She is survived by one daughter, Sandra K. Adkins of Lincoln; three sons, Steven R. (and Carol) Werner of Chandler, Ariz., Scott A. Werner of Lincoln and Stanton W. Werner of Aurora; seven grandchildren, Christopher A. (and Nicole) Werner of Aurora, Cynthia A. and Courtney A. Adkins, both of Springfield, Emily R. Werner of Tucson, Ariz., Elliot D. Werner of Phoenix, Ariz., Brock A. (and Hayley) Werner of Lincoln and Morgan Werner of Aurora; two great-grandchildren, Imagin Patience Werner and Jessa Bliss Werner, both of Lincoln; a sister-in-law, Ethel (and John) Kelly of Venice, Fla.; and several nieces, nephews and cousins.
She was preceded in death her husband of 64 years, her parents and two brothers, Ralph and Eugene Sandidge.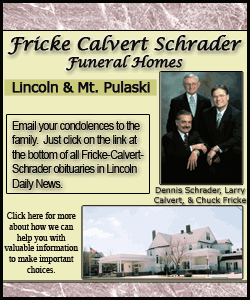 She was a member of Zion Lutheran Church of Lincoln.
Mrs. Werner's hobbies included traveling with her husband in their motor home, bowling and watching sports, especially when her children and grandchildren were playing.
In lieu of flowers, donations may be made to the scholarship fund for Zion Lutheran School of Lincoln or to Memorial Home Services Hospice.
Click here to send a note of condolence to the Werner family.