Helen Hart Heins

Send a link to a friend
[October 20, 2009] Helen Lucille Hart Heins, 87, of Lincoln, died Friday, Oct. 16, 2009, at Memorial Medical Center in Springfield.
A memorial service for Mrs. Heins will be at 10 a.m. Saturday, Oct. 24, at Lincoln Christian Village Congregate Building, with Chaplain Ryan Edgecombe officiating.

Burial will follow in Zion Cemetery.

Holland Barry & Bennett Funeral Home in Lincoln is handling arrangements.

Mrs. Heins retired from the property appraiser's office of Charlotte County, Fla., in 1983.

She was born Nov. 11, 1921, near Beason to Otto P. and Eva Bateman. She moved to Detroit, Mich., after graduating from high school. She married William Hart in 1943, and he preceded her in death in 1949, leaving two small daughters. She moved back to Lincoln, and in 1970 she married Arnold Heins. Shortly thereafter they moved to Port Charlotte, Fla.

She is survived by two daughters, Beverly Lessen (and her husband, Larry Joe) of Lincoln and Charlene Lessen (and husband Ben) of Lincoln; six grandchildren; 14 great-grandchildren; one sister, Thelma Gilbert of Detroit, Mich.; a sister-in-law, Andree' Bateman of Lincoln; and several nieces and nephews.

She was preceded in death by her parents, her husband William Hart and her husband Arnold Heins, two great-granddaughters, four brothers, and four sisters.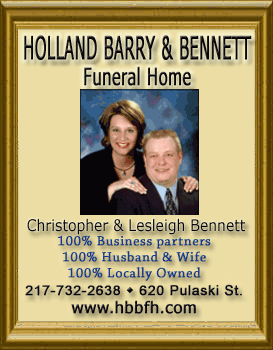 She was a member of the First Christian Church of Port Charlotte, Fla., and a member of the Sunday school class. She was a charter member of the Peace River Chapter of the American Businesswomen's Association, past president and woman of the year. She was also a member of the Disabled American Veterans Auxiliary and N.W. Home Owner's Association. She was a member of the Rebekah Lodge in Lincoln.
She graduated from Lincoln Community High School in 1939.
Memorial donations may be made to the First Christian Church of Port Charlotte Prime Timers in Florida, Memorial Home Hospice of Springfield or Lincoln Christian Village Congregate Building.
Click here to send a note of condolence to the family of Helen Hart Heins.