Mr. Beaver had full-time ministries at First Christian Church in Duncanville, Texas; Memorial Christian Church in Palestine, Texas; and First Christian Church in Dalhart, Texas.
He was born Dec. 17, 1928, to G.A. and Marie Beaver of Arcadia, Texas.
He is survived by his wife, Barbara, of Lincoln; one son, Bob Beaver (and Rachel) of San Angelo, Texas; two daughters, Susan Skidmore (and Ed) of San Antonio, Texas, and Miriam Windham (and Neal) of Lincoln; nine grandchildren, Joshua Beaver of Corydon, Ind., Zoe Reilly (and Devin) of Louisville, Ky., Joanna Beaver of Palmyra, Ind., Kaysha Simpson (and Chris) and Charis Gordon (and Joe) of Lincoln, Kimberly Condit (and P.J.) of Round Rock, Texas, Luke Windham (and Sarah) of Dwight, Amy Beth Beaver of Redding, Calif., and Benjamin Beaver (and Mary) of San Angelo, Texas; six great-grandchildren, Morgan and Caleb Condit, David and Lydia Simpson, Julia Grace Beaver, and Whittaker Neal Windham; three sisters, Teressa Craig of Santa Fe, Texas, Wanda Franks of Georgetown, Texas, and Maedell Ercums of Alvin, Texas, and one brother, Kenneth Beaver of Beaumont, Texas.
He was preceded in death by his elder son, James Beaver, and his brother Gerald.
He spent his youthful years helping on the family dairy.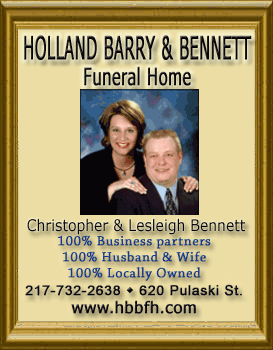 He was a graduate of Johnson Bible College and did graduate study at Dallas Theological Seminary. During his college years, he had weekend ministries in Slaughters and Bethlehem, Ky.
"We know that if the earthly tent is destroyed, we have a building from God, an eternal house in heaven, not built by human hands." -- 2 Corinthians 5:1
The family requests no flowers. Memorials gifts may be sent to House of Faith, 321 Montecito Drive, San Angelo, TX 76903; Johnson Bible College, 7900 Johnson Drive, Knoxville, TN 37998; or hospice.
Click here to send a note of condolence to the Beaver family.