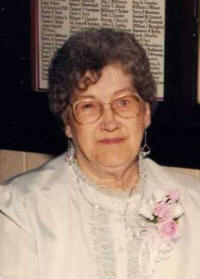 Geraldine 'Geri' Bertsche

Send a link to a friend
[October 19, 2009] MOUNT PULASKI -- Geraldine "Geri" Bertsche, 90, of Mount Pulaski, died Sunday, Oct. 18, 2009, at 5:11 p.m. at St. John's Hospital in Springfield.
Her funeral will be at 2 p.m. Wednesday at Fricke-Calvert-Schrader Funeral Home in Mount Pulaski, with Mark Weber officiating. Visitation will be 1-2 p.m. at the funeral home.
Burial will be in Mount Pulaski Cemetery.
Mrs. Bertsche had been a waitress and worked at the hairpin factory in Shelbyville for many years.
She was born July 7, 1919, in Decatur to George and Florence Severe McGlennon. She married Harold Bertsche in Springfield on May 17, 1961. He preceded her in death on Aug. 22, 1977.
She is survived by two sons, Lloyd (and Evelyn) Rice of Pekin and Gerald Rice of Oklahoma; two daughters, Sharon Forbes of Springfield and Cathy Loveall of Lincoln; seven grandchildren; and seven great-grandchildren.
She was also preceded in death by two sisters and an infant brother.
She was of the Christian faith.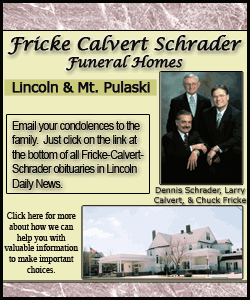 Memorials may be made to the American Cancer Society.
Click here to send a note of condolence to the Bertsche family.