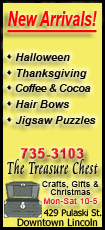 One word that could be used to describe the Railer football season this year is "frustration."

Rather than sticking around to answer questions following games, Lincoln head coach Jared Shaner several times could have offered reporters a recording of the same statements about frustration with the offense shooting itself in the foot, frustration at the defense not making tackles and frustration about holding on to the football.

And if the team's winless record thus far hasn't been frustrating enough, imagine being on a winless team and not playing as much as other participants. To the casual observer, a winless season and not much playing time would seem to be a discouraging situation.

A casual observer might think that, but don't tell Dowell.
"He doesn't get on the field as much as some of the other kids do, but he never complains about it," Shaner said. "He just continues to do what he needs to do, and he's a team leader in his own way in that he's got a positive attitude all the time and just a good kid to have around."
Blake is the son of Ross and Becky Dowell of Lincoln. While he only tallied three assists in the team's first seven games, Dowell refuses to let what others might view as a frustrating situation detract from his generally upbeat attitude.
"It probably comes from my dad," Dowell said of his positive attitude. "He's always encouraged me to do stuff and always pushed me and helped me."
But what about the team's winless record so far this season? Doesn't that discourage him?
"It's made me want to come out and work harder," Dowell said.
But what about being winless and not getting to play much; doesn't that irritate him?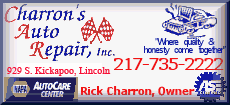 "Nope, just deal with it and do it," Dowell said. "Like at practice, if he (Shaner) says get on the line again, I don't complain, I just do it."
So Shaner's assessment that Dowell has never complained is accurate?
"Well," Dowell admitted with a slight grin following a thoughtful pause, "I've probably complained a little, but he hasn't heard it."
While many coaches might focus mainly on those players who lead in the various statistical categories, Dowell said he appreciates the fact that Shaner is willing to help whenever asked.
"He's understanding," Dowell said of the LCHS head coach. "He works with skill positions more than line, but he gets to know everyone and he'll help you, not just the positions he works with."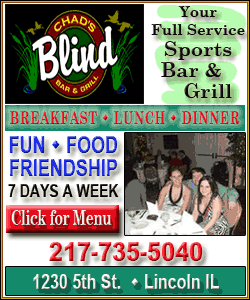 Off the field, Dowell is active with the youth group and youth mission team of First United Methodist Church in Lincoln as well as holding down a job at Culver's.
Given the amount of time participants must devote to football by watching game film, practicing and playing in the actual games, some players might complain about a lack of playing time, which could lead to problems with the chemistry of a team. But Shaner said that hasn't ever been the case with Dowell.
"Blake just has a good personality," Shaner said. "I don't think I can recall a time when Blake doesn't have a smile on his face or isn't being positive about things. He's got a really neat outlook on life and is just a fun kid to be around."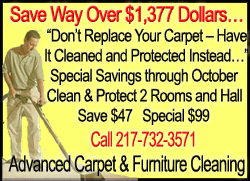 Even though he might not see as much time on the field as some of his teammates, Dowell said participating in the Railer football program has helped him off the field in deciding on post-high school goals such as attending culinary school.
"Quite a few times Coach Shaner's said, 'I know not all of you will be passionate about football, but I want to encourage you to be passionate about one thing in your life,'" Dowell explained. "That's taught me what I want to be when I grow up as far as being a chef and running my own restaurant."
And whether he opens his restaurant in Lincoln or elsewhere, there's no doubt all the entrees will be prepared with a sizable helping of Dowell's positive attitude.
And the skies won't be cloudy all day.
[By LOYD KIRBY]