Leonard Ranz

Send a link to a friend
[October 22, 2009] Leonard A. Ranz, 61, of Lincoln, died Wednesday, Oct. 21, 2009, at 3:30 p.m. at his home.
His funeral will be at 1 p.m. Saturday at Fricke-Calvert-Schrader Funeral Home in Lincoln, with Bill Steger of Oak Park Baptist Church in Berwyn officiating. Visitation will be one hour prior to the service.

Burial will be in New Union Cemetery.

Mr. Ranz worked for the Ford Motor Co. in Chicago Heights for 37 years.

He served in the U.S. Air Force from 1966 to 1970.

He was born Jan. 21, 1948, in Kankakee to Robert and Adaline Thackerey Ranz. He married Jeanne Ranney on April 4, 1969, in Lincoln.

He is survived by his wife, of Lincoln; one son, Jay Ranz (and Jennifer Czajka) of Chicago; one sister, Jill Carlson of Oswego; two granddaughters, Abigail and Mabel Czajka of Chicago; one nephew, Jeremy Carlson of Peoria; and one niece, Lyndsay Carlson of Bloomington.

He was preceded in death by his parents.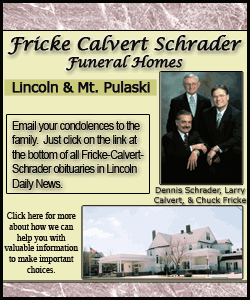 He was a member of the First Baptist Church of Momence for 27 years and served as a deacon and Sunday school superintendent. While living in Lincoln he had been attending Jefferson Street Christian Church.
Memorials may be made to the American Cancer Society.