LC began the day with a three-set win over Joliet Junior College. Lincoln got off to a fast start and won the first set 25-16. Set two was the only close call of the day for the Lady Lynx as they held off JJC to win 25-23. In set three LC cruised to a 25-14 win.

Prior to the afternoon match with Lewis & Clark CC, Lincoln took time to recognize its six sophomore players and their parents. All six started the match and led LC to an impressive three-set sweep of the visiting Lady Trailblazers (25-11, 25-20, 25-15).

Lincoln improved its season record to 25-11.

LC totals:
Melanie Herbeck (sophomore) -- 46 set assists, 15 points, 7 aces

Gretchen Rieger (sophomore) -- 18 kills, 10 digs, 11 points

Lara Dawson (sophomore) -- 15 kills, 3 blocks

Chelsea Barr (sophomore) -- 15 digs, 7 points, 2 aces

Kaylah Murphy (sophomore) -- 7 digs, 9 points

Samantha Murphy (sophomore) -- 13 points 4 aces

Natalia Florczyk -- 10 kills, 7 points

Abbie Hare -- 10 kills, 11 blocks
Comments from LC coach Mark Tippett:

"I could not be happier for our sophomores. They have worked hard on and off the court during the two years they have been at LC, so it is very satisfying to see them finishing their careers playing at such a high level. Each one of them contributed to the wins today.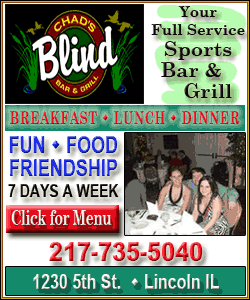 "Our team as a whole has shaped themselves into a unit without many weaknesses. Today we showed that we can win in a variety of ways. Our serving was not very consistent, but our sideout game stepped up to allow us to overcome this flaw. I am especially pleased with the discipline and tenacity we are showing on defense. Our players don't give up on anything, which makes us a tough team to run off points against. We are playing just as I hoped we would at the end of the season."

On Thursday Lincoln College will play its final match of the regular season. This will also be the final home match for the LC volleyball program in the Davidson-Sheffer Gymnasium. In 2010 LC will begin hosting matches in the soon-to-be-completed Lincoln Center. The team will send out the old gym in style as they will turn back the clock to the 1970s with Disco Night. Disco music will rule the night and the team will be decked out in groovy uniforms to set the mood. Fans are encouraged to get in on the fun too by wearing their favorite

'70s-era outfits.

[Text from file received from Mark Tippett, Lincoln College volleyball coach]