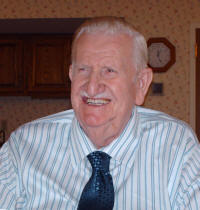 Earl Conrady

Send a link to a friend
[September 04, 2009] Earl T.F. Conrady, 88, of Lincoln, formerly of Hartsburg, died Friday, Sept. 4, 2009, at 6:50 a.m. at Memorial Medical Center in Springfield.
Visitation will be 4-7 p.m. Tuesday at St. John's Lutheran Church in Hartsburg. His funeral will be at 10:30 a.m. Wednesday at the church, with the Rev. David Russell and Ryan Edgecomb officiating.
Arrangements are by Fricke-Calvert-Schrader Funeral Home in Lincoln.

Burial will be in Hartsburg Union Cemetery, Hartsburg.

Mr. Conrady was retired from farming in Orvil, Prairie Creek and Sheridan townships.

He was born Feb. 11, 1921, at Hartsburg to Seide and Anna Rademaker Conrady. He married Frances Schultz on April 18, 1943, in Lincoln. She preceded him in death on Jan. 6, 1998.

He is survived by one son, Richard (and Mary) Conrady of Hartsburg; one daughter, Kay (and John) Proefrock of Hartsburg; two sisters, Ruth Ellen Guill of Watseka and Lula Belle (and Allen) Barry of Emden; four grandchildren, Brenda Tibbs of Lincoln, Monica Proefrock of Jacksonville, Ann Proefrock of Hartsburg and Dirk Conrady of Hartsburg; two stepgrandchildren, Sarah (and Jason) Lorek of Romeoville and Jessica (and Brandon) Payne of Bowling Green, Ky.; three step-great-grandchildren; a sister-in-law, Florence Clark of Mount Pulaski; and a brother-in-law, Edward Schultz of Phoenix, Ariz.

He was also preceded in death by one son, William E. Conrady; one brother, Robert Conrady; and one sister, Analina Coers.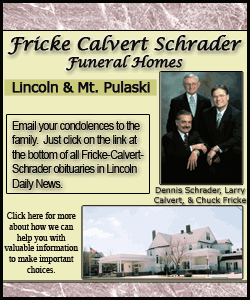 He was a member of St. John's Lutheran Church of Hartsburg, St. John's Brotherhood and the church council.
He was a 34-year member of the board of directors of Emden's Farmer's Grain. He was also a member of the Farm Bureau of Logan County, Linpro Square Dance Club and Emden Community Dance Club.
Memorials may be made to St. John's Lutheran Church of Hartsburg.
Click here to send a note of condolence to the Conrady family.