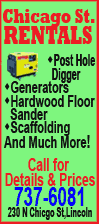 Stocks in Asia rose overnight, while all major European indexes gained in morning trading there. Commodities like oil and gold rebounded as well, while the dollar lost ground against other major currencies.
Investors appear to be adhering to a well established trend: For weeks, any dips in stocks have been moderate and short-lived.
The market on Tuesday will be looking for more signals from the government as the Federal Reserve begins a two-day rate-setting meeting.
Dow Jones industrial average futures are up 63 at 9,781. Standard & Poor's 500 index futures are up 7 at 1,068, while Nasdaq 100 index futures are up 11 at 1,739.