Ashley O'Neill goes perfect, Humane Society, calligraphy class and YMCA's School's Out Fun days all in Close Up
By Mike Fak
[September 22, 2009] Ashley O'Neill goes perfect.
Ashley O'Neill did something that hasn't been done before in Logan County. Ashley bowled a perfect 300 game Sunday at Logan Lanes in the Swingers League. Logan Lanes owner Sean Taylor says that Ashley's performance is the first by a lady bowler in the county.

The young lady's perfection came in the first game of her series. Ashley also bowled a 237 and a 193 to end up with a 730 series.
---

The Humane Society of Logan County will have its final DOG WASH of the summer on Saturday, Sept. 26, from 10 a.m. until 2 p.m. at J&S Auto, 1006 Woodlawn Road in Lincoln. The wash is inside and we will have warm water to bathe your precious pooch. Donations accepted for the wash. Dog nail clipping available for an additional $7. First 25 dogs receive a free doggie bag.
---

Calligraphy class at park district. Elegant handwriting or the art of producing such writing. You can learn that art right here at the park district. We welcome Harry Tibbs as our instructor. Harry is a retired graphic artist and accomplished calligrapher. This one-hour class will begin Tuesday, Oct. 20, at 7 p.m. for four weeks. You'll finish just in time to be able to produce your own beautifully scripted Christmas envelopes. This is an art that may be used many times throughout the year. Preregistration is strongly recommended so that ample supplies will be available. An introductory calligraphy pen and paper will be provided.
---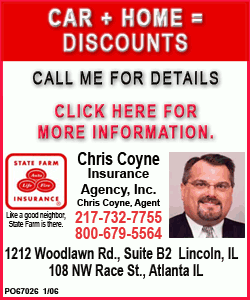 Registration forms are now available for the YMCA's School's Out Fun Days on Oct. 9 and 12. Both dates are for District 27 children, and C-EL students can attend on Oct. 12. These are thematically planned, fun-filled "mini-camp" days offered to kindergarten to sixth-grade children on weekdays when school is not in session. Fun Days are at the YMCA Activity Center, 719 Wyatt Ave. YMCA Before and After School staff members lead activities, lessons, playtime and more. Fee increases apply after registration deadlines, which are two weeks prior to each Fun Day. (See http://www.lincolnymca.org/FunDays.aspx.)
---
Got a good piece of news, information or something that we can all brag about? If you do, e-mail Mike and let us tell everyone about it. Plus you can win cash. Every submission, whether we use it or not, will get your name in the "Close Up" grab bag. At the end of the month we will draw a name and someone will get $25 just for dropping us an e-mail. If you wish, we will be happy to donate your winnings to the organization of your choice.
You can contact Mike at mikefak@lincolndailynews.com.
[By MIKE FAK]