Austin Gee

Send a link to a friend
[September 25, 2009] BEASON -- Austin Gee, 11, of Beason, died early this week at his home. Pronouncement of death was Monday, Sept. 21, 2009, at 4:46 p.m.
Visitation will be from 10 a.m. to 2 p.m. Monday, Sept. 28, at the Family Life Center, 114 N. Lafayette in Mount Pulaski. The funeral will follow at 2 p.m.

Burial will be in Laenna Cemetery, rural Chestnut.

Funeral arrangements are being handled by Fricke-Calvert-Schrader Funeral Home in Mount Pulaski.

Austin attended Chester-East Lincoln School in Lincoln.

He was born Jan. 22, 1998, in Lincoln to Raymond "Rick" and Ruth Ann Constant Gee.

He is survived by two grandmothers, two brothers, three sisters, many uncles and aunts, one niece, and one nephew.

His parents, one brother, one sister and two grandfathers have died.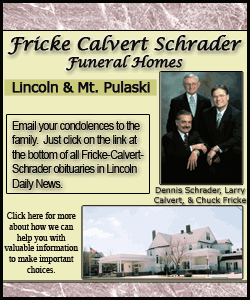 Austin was active in the band and chorus at Chester-East in Lincoln. He was looking forward to playing basketball this year.
Austin was shy, very caring and sensitive to others' needs.
Memorials may be made to the Raymond "Rick" Gee family.
Click here to send a note of condolence to the family of Austin Gee.