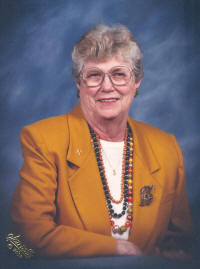 Helen Haseley
Send a link to a friend
[September 28, 2009] Helen E. Haseley, 74, of Lincoln, died Monday, Sept. 28, 2009, at 2:10 a.m. at St. Clara's Manor.
Visitation will be 4-7 p.m. Wednesday at Fricke-Calvert-Schrader Funeral Home in Lincoln.
Her funeral will be at 10:30 a.m. Thursday at Zion Lutheran Church in Lincoln, with the Rev. Mark Thompson officiating.
Burial will be in Zion Cemetery.
Mrs. Haseley was a homemaker.
She was born Aug. 18, 1935, in Lincoln to Bernard and Mary Williamson May. She married Vernon C. Haseley on Jan. 17, 1954, in Lincoln.
She is survived by her husband, Vernon C. Haseley Sr. of Lincoln; three sons, Vernon C. (and Jill) Haseley Jr. of Beason, David (and Cindy) Haseley of Denver, Colo., and Mark (and Kathy) Haseley of Lynn Haven, Fla.; three brothers, Deane (and Jane) May of Atlanta, Richard (and Lois) May of Toledo, Ohio, and Robert (and Carol) May of Mount Pulaski; three sisters, Mary Wilson of Lincoln, Dorothy (and Virgil) Morrell of Lake Oswego, Ore., and Barbara (and Norman) Fink of Belleville; and five grandchildren.
She was preceded in death by her parents and two brothers, James and George "William" May.
She was a member of Zion Lutheran Church of Lincoln, where she served on the church's planning committee, was choir director and Bible school teacher, and was a founder of Zion's outdoor live Nativity. She was also a member of the Lutheran Laymen's League and Aid Association for Lutherans and served those organizations as an officeholder.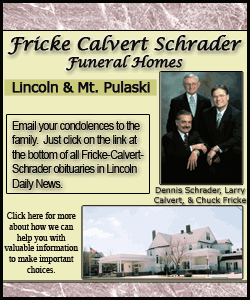 She hosted farm tours for schoolchildren and many organizations. She was junior 4-H leader for three years.
In 1983 she was named grand marshal for homecoming at Lincoln Community High School.
Memorials may be made to Zion Lutheran Church or Zion Lutheran School of Lincoln.
Click here to send a note of condolence to the Haseley family.