William 'Andy' Anderson
Send a link to a friend
[April 20, 2010] ELKHART -- William E. "Andy" Anderson, 83, of Elkhart, died Monday, April 5, 2010, at 3:15 a.m. at Memorial Medical Center in Springfield.
Visitation will be 4-7 p.m. Wednesday at Fricke-Calvert-Schrader Funeral Home in Lincoln.
His funeral will be at 11:30 a.m. Thursday at Elkhart Christian Church, with Robert Twist officiating.
Burial will be in Camp Butler National Cemetery, Springfield, where military rites will be conducted.

Mr. Anderson was a retired farmer and retired from the Department of Agriculture.

He served in the U.S. Navy from 1944 to 1946 during World War II and from 1952 to 1954 during the Korean War.

He was born Jan. 27, 1927, in Elkhart. His parents were James and Emma Olson Anderson. He married Ann Haynes on June 13, 1954, at the U.S. naval base in Yokosuka, Japan.

He is survived by his wife, of Elkhart; two sons, Mark Anderson of Elkhart and Jeff (and Vicki) Anderson of Mount Pulaski; one daughter, Sally (and Chuck) Goff of Woodhull; one sister, Jean Bobell of Lincoln; 15 grandchildren; and 13 great-grandchildren.

He was preceded in death by his parents and one brother, James L. Anderson.

He served on many boards and commissions, and was deacon, elder and Sunday school teacher at Elkhart Christian Church. He served on the Elkhart High School board and with the regional school trustees of Logan-Mason-Menard County, being chairman for 12 years. He also served on the Logan County FS board, Logan County Development Foundation, FHA board, Logan County Regional Planning Commission, Abraham Lincoln Hospital Healthcare Foundation and Logan County Fair board. With the fair board, he served as vice-president, organized the first junior livestock show and was the first superintendent, and served as chairman of central zone county fairs.

He was active in the Republican Party and served as Logan County coordinator for the Thompson campaign.

He was named Outstanding Young Farmer of Logan County by the Lincoln Jaycees in 1963.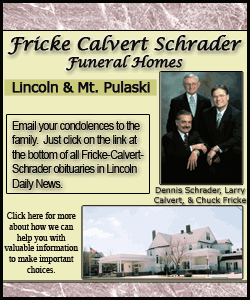 He attended Elkhart schools, attended Illinois State University in the Navy V-12 program, and graduated from the University of Illinois in 1949 and also received a commission as ensign in the U.S. Naval Reserve.
He began farming with his father until 1952, when he was recalled into the Navy and served in the Harbor Defense Unit in Yokusuka, Japan, during the Korean War. He was discharged in December 1954.
He retired from farming in 1981 and was employed as a bureau chief in the Illinois Department of Agriculture, where he served as chairman of the Interagency Committee on Pesticides and also served on the governor's Chemical Safety Task Force.
He enjoyed attending his grandchildren's and great-grandchildren's sports events. He also enjoyed gardening and woodworking in his spare time.
Memorials may be made to Elkhart Christian Church.
Click here to send a note of condolence to the Anderson family.