Lincoln Daily News
welcomes letters of appreciation, information and opinion on matters pertaining to the community.
As a community we need to be able to talk openly about matters that affect the quality of our lives. The most effective and least offensive manner to get your point across is to stick to the issue and refrain from commenting on another person's opinion. Letters that deviate from focusing on the issue may be rejected or edited and marked as such.
.
You may also send your letters by e-mail to ldneditor@lincolndailynews.com
or by U.S. postal mail:
Letters to the Editor
Lincoln Daily News
601 Keokuk St.
Lincoln, IL 62656
Letters must include the writer's name, telephone number, and postal address or e-mail address (we will not publish address or phone number information). Lincoln Daily News reserves the right to edit letters to reduce their size or to correct obvious errors. Lincoln Daily News reserves the right to reject any letter for any reason. Lincoln Daily News will publish as many acceptable letters as space allows.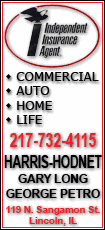 To the editor:

It has been five years since our family has moved to Lincoln. It is, sadly, easy enough for us to remember the precise season. It was March of 2005. On my wife's birthday (the 18th), a judge ordered the feeding tube of Terri Schiavo removed, and with our nation we were gripped by the story. Before the month was over (on the 31st), Terri had died of starvation/dehydration. We don't believe we'll ever forget the moment we heard the expected, yet horrifying news: Terri was gone. And our family grieved.

Folks around us had mixed reactions. "It is complicated," some said, wishing not to become too involved in a controversial matter.

Some were curious about our opinion on the subject, learning that we have a daughter, Kari, similar to Terri (we are convinced the evidence shows Terri was less disabled than is our daughter). And some were also truly sympathetic and shared in our grief -- grief for a family in Florida and grief for a culture that had taken one more step away from valuing each human life.

[to top of second column in this letter]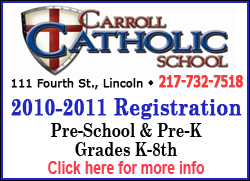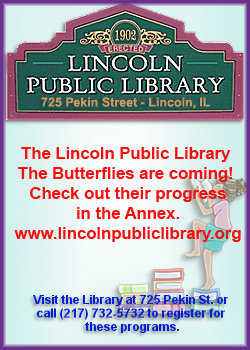 Kari was 18 at the time. Thankfully she is still with us. She has had some major battles to fight within these five years. While we are very concerned about the overall direction in which the American culture continues to flow with regard to issues of life, we are grateful that there are those who join us in valuing our severely disabled daughter. Our family doctor, Thomas Zwilling, is a great support to us. We appreciate his competence and compassion. Nearly two years ago, ALMH provided excellent care at a precarious time -- we nearly lost Kari to pneumonia. And there are neighbors and friends who have come to know and love Kari and express their support in a variety of ways.
As we look back on a sad season for our country, a time that to us is similar to Jan. 22, 1973, we wish to also look on the bright side and express thanks for those in this community who stand with us -- those who continue to believe our Creator has endowed us with the unalienable right to life.
Ron and Joan Denlinger
Lincoln
[Posted April 20, 2010]