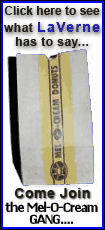 "I've always believed in finishing where you started," McNabb said. "I think there's a lot to be said with that. Not a lot of quarterbacks in this league are able to do that these days. Sometimes change is better. Sometimes you're forced into change. I would have loved to (stay in Philadelphia), but it didn't happen."
Instead, he is with the Redskins and new coach Mike Shanahan, and both went to great lengths to say that trading two draft picks for a 33-year-old quarterback with a few nicks is a solid investment. They did so by repeatedly invoking Elway, who was 34 when Shanahan became coach of the Broncos in 1995.
"I'm turning 34 this year," McNabb said. "And he finished John's career with two Super Bowls. Hopefully I can continue to follow behind that."
It makes for quick answer to the boos McNabb has heard in Philadelphia in recent years.
"People were saying John Elway should retire," Shanahan said, "until he won the Super Bowl."
Before the pursuit of such lofty goals, there were the necessary reflections and thank yous from McNabb to Philadelphia. Most of his words for his former team and city were upbeat and gracious -- "I felt I was treated fair" -- with maybe a slight dig or two thrown in.
Surprisingly, McNabb said he has spoken "not much" about the trade with Andy Reid, his coach for his entire tenure with the Eagles. He portrayed himself as fallout from a Philadelphia youth movement.
"They're rebuilding, and they're going young," McNabb said. "So I never knew 33 years old was old, but I guess I'm too old."
And, while Shanahan's offense will have its similarities to Reid's, McNabb cited what he thinks will be one substantial difference.
"It starts with the run game," McNabb said. "I know probably a lot of you come from Philly don't know much about that run game. But we will run the ball here."
And, when asked if the rug had been pulled out from under him in Philly, McNabb said: "It did."
"We had two young guys on the outside, a very effective tight end, a young running back, (Brian) Westbrook was coming off an injury, the offensive line was trying to jell, we were mixing guys in, and some guys were hurt," McNabb said. "But they moved in another direction. There's nothing I can do on that particular point."
McNabb said he expects "hopefully cheers" when he returns to the Philadelphia with the Redskins next season, yet he refused to portray it a special date on his mental calendar.
"I don't look at it any different than playing the Giants or Dallas," McNabb said. "Nothing like I'm going to run my head through a locker or start throwing stuff through my house. It's an opportunity for us to play another team."
McNabb was clearly relieved to have constant trade speculation behind him -- "I'm just so happy that it's over" -- and that he ended up with a team among those at the top of his wish list.
His agent, Fletcher Smith, said he and McNabb didn't end up having to object to an undesirable destination.
"He and Andy have a special relationship, and he did right by Donovan at the end of the day," Smith said. "There wasn't a time when we had to tell a team we weren't going to come."