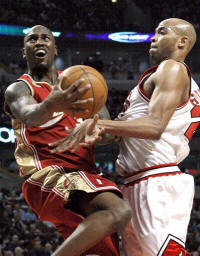 Bulls squeeze out 109-108 win against Cavaliers

Send a link to a friend
[April 20, 2010] CHICAGO (AP) -- Derrick Rose scored 24 points, Kirk Hinrich had 23 and the Chicago Bulls survived some shaky free-throw shooting down the stretch to beat the Cleveland Cavaliers 109-108 with LeBron James on the sideline on Thursday night.
Luol Deng had 22 points and 10 rebounds, Joakim Noah added 17 points and 15 boards, and the Bulls moved into a tie with eighth-place Toronto in the Eastern Conference.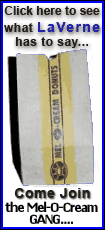 The Raptors hold the tiebreaker, but with Chris Bosh injured, Chicago's odds are looking good.

The Bulls prevailed even though Rose and Deng each missed two free throws in the final 15 seconds and Cleveland's Mo Williams scored a season-high 35 points on a night when James sat out to rest some bumps and bruises.

Chicago let a 12-point third-quarter lead slip away and couldn't put Cleveland away after going back up by seven in the fourth.

The Cavaliers were leading 108-107 after Williams' 3-pointer with 1:29 remaining. Noah answered with a tip-in to put Chicago back on top, and the Bulls hung on.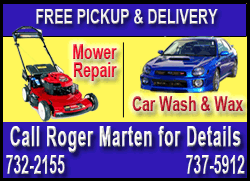 Taj Gibson blocked Williams' layup with 26 seconds left and the Cavaliers couldn't take advantage after Deng missed two free throws with 14.4 seconds left. Anderson Varejao put up an airball on a jumper and Moon had a layup blocked by Noah with 1.9 seconds left.

Rose missed two free throws, but it didn't matter.

With the league's best record locked up and the playoffs approaching, Cavaliers coach Mike Brown is taking a cautious approach with James. The last thing he needs is to see his superstar go down like Bosh, who suffered a facial injury against the Cavaliers, or Milwaukee's Andrew Bogut.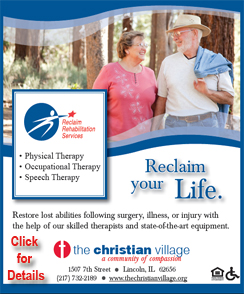 So James watched from the sideline dressed in a suit and he's a gametime decision for Friday's matchup with Indiana.
Williams did his part, scoring 12 on four 3-pointers in the fourth.
Antawn Jamison added 23 points and Jamario Moon scored 14.
NOTES: Cavaliers G Delonte West missed his second straight game with lower back spasms. ... Sebastian Telfair had eight points in his first appearance since the Cavaliers acquired him from the Los Angeles Clippers in a three-team deal. Telfair had been sidelined since Jan. 20, when he injured his groin during a Clippers game against Chicago. ... The Bulls' remaining games are at New Jersey on Friday and at Toronto on Sunday. They host Boston on April 13 and visit Charlotte the following day.
[Associated Press; By ANDREW SELIGMAN]
Copyright 2010 The Associated Press. All rights reserved. This material may not be published, broadcast, rewritten or redistributed.