Smiley takes Logan County wind to Windy City

Send a link to a friend
[April 20, 2010] Joel Smiley, executive director of the Lincoln & Logan County Development Partnership, recently concluded a busy two days in Chicago. On behalf of the partnership and county, Smiley attended the U.S. Wind Turbine Supply Chain conference at the Windham Hotel in downtown Chicago on April 12 and 13.
Smiley said approximately 250 people representing several countries were on hand for the conference and networking opportunity.

The executive director said his time at the conference allowed him to come in contact with perhaps 50 company officials who have businesses in either the wind farm or wind farm supply and distribution fields. Of those contacts, Smiley said at least 10 companies expressed an interest in Logan County. He intends to follow up with phone calls and offer site visits to anyone interested in seeing all that Logan County has to offer.

Smiley said that in addition to wind farms, ancillary businesses that provide components, warehousing and distribution needs will find our area an excellent centralized location to deliver to not only area wind farms, but to farms in adjoining states.

He found one Midwest company that was developing a new wind turbine product and looking for a site, which would bring 100 new jobs. Companies like these are what he is targeting besides wind farm developers.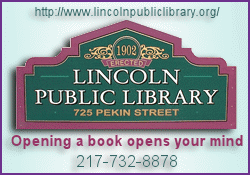 Smiley said he also made contact with several site selectors: companies that tour areas dealing with logistics for wind farm development and then make recommendations to wind farm companies. He said one such contact was with a senior consultant of one of the five largest firms in the world.
The partnership director said he also spoke with a vice president of Nordex, the world's largest manufacturer of wind turbine components, which moved from Germany to Chicago in 2008. He is excited about continuing dialogue with him and that company.
Smiley said attending such conferences is important in order to make sure Logan County and the benefits to locating here are known not only to wind farm developers, but to all the other ancillary businesses growing right now in the wind industry as well.
There is more wind in the partnership's sails in the upcoming month, when Smiley will coordinate organizing the partnership along with the Illinois Department of Commerce and Economic Opportunity, and Wind for Illinois, an Illinois wind working group, at the Windpower 2010 annual convention in Dallas, Texas, from May 23 to 25. Smiley said that working together as a team will allow the Illinois group to be a major presence at the convention.
On another positive note, Smiley said that the newly formed Center of Success has a major prospect that would be a "job maker," bringing 50 new jobs to the county.
Additionally, there are several other major events happening in the upcoming months, including a luncheon and fundraiser for the partnership titled "Logan County's Future Is in the Wind," which will feature Kevin Borgia, executive director of the Illinois Wind Energy Association.
With all the cards cast, Smiley will take a few weeks off for his April 24 marriage to Patti Emert. The two plan to honeymoon in Israel. When he returns he'll be back in the game, ready to make some winning plays.
[By MIKE FAK]
Contact information
Lincoln & Logan County Development Partnership
Executive Director Joel Smiley
1555 Fifth St.
Lincoln, IL 62656
217-732-8739
EconDev@LincolnLogan.com
http://www.lincolnlogan.com/
Related recent articles