Hartsburg-Emden FFA, Sandy Morgan, Erich Maxheimer, Habitat, Comcast and Community Action make Close Up
By Mike Fak
[April 30, 2010] The Hartsburg-Emden FFA livestock judging team placed second at the Section 14 contest. Cody Conrady was fifth overall and Cole Baker was ninth overall. Other team members were Kelsi Ubbenga, Robby Meeker, Dirk Conrady, Josiah Klokkenga, Taylor Manus and Noah Cross.
---

Sandy Morgan retired on Thursday, April 29, after a 31-year career at Abraham Lincoln Memorial Hospital. She worked as a unit clerk on the second medical/surgical unit at the hospital.
The hospital will have a celebration in her honor from 2 to 4 p.m. Friday in Conference Room A (lower level). Cake and punch will be served. At 3 p.m. there will be a presentation by Dolan Dalpoas, ALMH president and CEO.
"Sandy is such a warm, caring and professional person," says Vicki Tolan, assistant director of nursing. "Everything about her will be missed. It will be those little things especially that she may not even think of that all her co-workers will miss."
---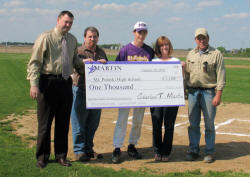 Erich Maxheimer, son of Suzie and Mike Maxheimer, was named WAND-TV Student Athlete of the Month for April. Erich lettered in baseball all four years at Mount Pulaski High School, is a member of the National Honor Society, WYSE, senior class president, D.A.R.E role model, was nominated to the U.S. Air Force Academy by congressmen Aaron Schock and holds the rank of Eagle Scout. Erich received a plaque, and the MPHS Athletic Department was presented a check for $1,000 from Martin Graphics, sponsor of the WAND Athlete of the Month. Erich is the first from Logan County to receive this honor.
He will attend the University of Illinois College of Engineering this fall.
Thanks to Vic Martinek for the information and picture.
---

Habitat for Humanity will have a fundraiser at Culver's restaurant in Lincoln on Monday, May 3, from 5 to 8 p.m. The 10 percent of sales that Culver's awards to the Logan County Habitat affiliate will be used in the construction of the current home, No. 14, being built in Elkhart.
---

On April 24, volunteers from Comcast chose to work with Community Action for the third year in a row for Comcast Cares Day. Community Action had received a grant for playground equipment and things to "naturalize" the playground in order to encourage outside activity, but they had no money for labor. The volunteers dug holes for two playground horses and garden sets, put together Gus the caterpillar, and put down landscaping brick. They also painted the flagpole so Community Action can now fly the American flag at the corporate office. The volunteers did this with Community Action staff: Beth Fleshman, Marcia Hieronymus, Lynnette Bruce and Angela Stoltzenburg. There is still more work to do -– the ground was wet that day -– with flagstone to lay and things to plant. If you or your organization would like to help, call Community Action at 732-2159.
---
Got a good piece of news, information or something that we can all brag about? If you do, e-mail Mike and let us tell everyone about it. Plus you can win cash. Every submission, whether we use it or not, will get your name in the Close Up grab bag. At the end of the month we will draw a name and someone will get $25 just for dropping us an e-mail. If you wish, we will be happy to donate your winnings to the organization of your choice.
You can contact Mike at mikefak@lincolndailynews.com.
[MIKE FAK]