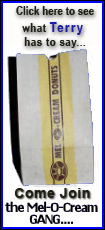 Adam Wainwright (4-1) worked six solid innings as the Cardinals completed a four-game sweep. With Albert Pujols getting a day off, St. Louis still won its fifth in a row and swept Atlanta for the first time since 1993.
Jair Jurrjens (0-3) strained his left hamstring and lasted only one inning for Atlanta. The Braves lost 10 straight in 2006- they can match skid Friday night at home against Houston.
The Braves have totaled 17 runs during their slump. Rookie Jason Heyward returned after one game on the bench and had two hits, including the first homer allowed by Cardinals pitching in 10 games at home this season.
Wainwright, a first-round pick of the Braves in 2000, is 5-0 with a 2.00 ERA against Atlanta in eight games. Yadier Molina helped out with two hits and two RBIs and Colby Rasmus scored four times.
Freese's day was the biggest by a Cardinals rookie since at least 1957, when rookie qualifications were established, the Elias Sports Bureau said. Freese has eight RBIs the last two games, getting two RBIs Wednesday on his 27th birthday, and 14 on the season.
He hit a three-run homer off the right-field foul pole with two outs in the first off Jurrjens, his first of the year and the first of his career at Busch Stadium. Freese added a three-run double off Jesse Chavez in the fifth.
The Cardinals scored in double figures for the first time since an 11-6 opening-day victory at Cincinnati. They last swept Atlanta in a four-game series Aug. 14-16, 1989, including a doubleheader. The 1993 sweep was in a three-game set.