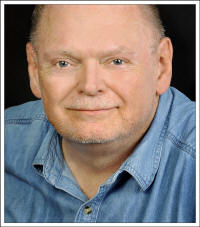 Jerry Dellinger

Send a link to a friend
[August 04, 2010] LINCOLN -- Jerry D. Dellinger, 63, of Lincoln, died Monday, Aug. 2, 2010, at 2:22 a.m. at Abraham Lincoln Memorial Hospital.
His body was cremated, and cremains will be interred at a later date at Pine Crest Cemetery, Mena, Ark.
Arrangements are by Fricke-Calvert-Schrader Funeral Home in Lincoln.
Mr. Dellinger owned Jerry Dellinger Photography in Lincoln and was a retired director and teacher of fine arts after 25 years with Lincoln College.
He was born April 16, 1947, in Nashville, Ark.
He is survived by his daughter, Heather Dellinger of Chicago.
He was preceded in death by his parents, U.D. and Glenva Wood Dellinger.
Jerry was founder of Heartland Theatre Co. and Non-Prophet Theatre Co. He was a member of the Illinois Theatre Association for 25 years.
He graduated from the University of Arkansas, Henderson State University and received his Master of Fine Arts degree from Illinois State University.
Memorials may be made to a charity of the donor's choice.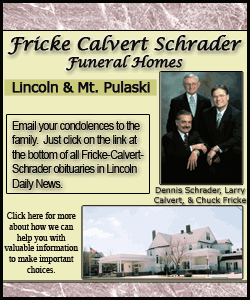 His daughter, Heather, would appreciate letters of memories, anecdotes and teachings of her father. These letters may be sent to her at 324 N. Hamilton St., Lincoln, IL 62656. She plans to compose a book as an inspiration for her children and future generations about her father's many contributions in life.
Click here to send a note of condolence on the death of Jerry Dellinger.