Bernhardt Kinnunen

Send a link to a friend
[August 30, 2010] MOUNT PULASKI -- Bernhardt M. Kinnunen, 87, of Mount Pulaski, formerly of Chicago, died Saturday, Aug. 28, 2010, at 6:45 p.m. at Abraham Lincoln Memorial Hospital in Lincoln.
Services will be at a later date at Modell Funeral Home in Chicago.

Burial will be in Resurrection Cemetery, Chicago.

Local arrangements are being handled by Fricke-Calvert-Schrader Funeral Home in Mount Pulaski.

He was born Jan. 23, 1923, in Minnesota. His parents were Albin Abel and Elisia Matilda Laituri Kinnunen. He married Helen Doniek on May 28, 1949, in Chicago, and she preceded him in death.

He is survived by two daughters, Judith A. (and Gary) Knauer of Mount Pulaski and Debra Norkus of Chicago; two sons, Robert (and Kathi) Kinnunen of Rockville, Ind., and Donald (and Debra) Kinnunen of Woodridge; and four grandchildren.

He was also preceded in death by several brothers and one sister.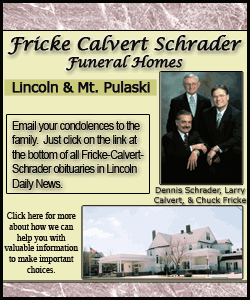 He was a member of Our Lady of Good Counsel in Chicago and had been the president of the McKinley Park Civic Association.
Memorials may be made to Vonderlieth Living Center.
Click here to send a note of condolence to the Kinnunen family.