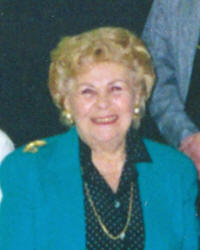 Laura Schilling
Send a link to a friend
[December 23, 2010] LINCOLN -- Laura Alice Schilling, 88, of Nashville, Tenn., formerly of Lincoln, died Monday, Dec. 20, 2010, at 2:10 p.m. at Green Hills Health and Rehab Center in Nashville.
Visitation will be 4-7 p.m. Tuesday, Dec. 28, at Fricke-Calvert-Schrader Funeral Home in Lincoln. Her funeral will be at 10:30 a.m. Wednesday, Dec. 29, at the funeral home, with the Rev. Robert Baker officiating.
Burial will be in Harmony Cemetery, Beason.

Mrs. Schilling was a retired state employee and housewife. She served as site interpreter and researcher at the Postville and Mount Pulaski courthouses. As a Lincoln retail businesswoman, she worked at the Perk-Up and managed Erik Kent, both on the square. She served for 12 years on the Logan County Board.

She was born Sept. 22, 1922, at Mitchell Dam, Ala. Her parents were Earl W. and Nancy Annie Jones Smith. She married John W. Schilling on June 6, 1941. He preceded her in death in May 1989.

She is survived by two daughters, Nancy Christina Davis of Nashville, Tenn., and Tamra Lorraine Ince of Conowingo, Md.; and two granddaughters, Deborah Elaine and Abigail Elizabeth Ince of Conowingo, Md.

She was also preceded in death by an infant son, John Wesley Schilling III; three brothers, Earl, Art and Bill Smith; one sister, Mae Nell Lowery; and a son-in-law, Barry M. Davis.

She was a member of Beason United Methodist Church and the United Methodist Women. She was also a member of the American Business Women's Association and the Logan County Herb Guild.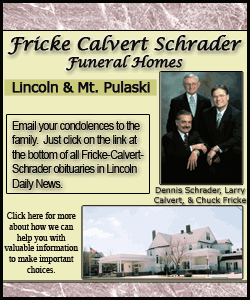 As a county board member from 1986 to 1998, she served on airport and farm, animal control, and liquor committees. As the first to chair the solid waste committee, she ultimately traveled to France to view their advanced methods of waste management.
Along with her hobbies of needlework, sewing, gardening and hat making, in her early years she loved being a hair style model for her brother Art, a cosmetologist.
Memorials may be made to the American Cancer Society, Beason United Methodist Church or Beason Fire Department.
Click here to send a note of condolence to the Schilling family.