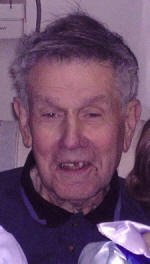 Lawrence Brogan

Send a link to a friend
[February 01, 2010] LINCOLN -- A memorial Mass for Lawrence E. Brogan, 88, of Lincoln, will be at 11 a.m. Saturday, Feb. 6, at Holy Family Catholic Church.
Mr. Brogan died Jan. 20, 2010, at home with his family.
Holland Barry & Bennett Funeral Home is handling arrangements.
He was a member of the local IBEW for more than 55 years.
He served in the Merchant Marines during World War II.
He was born May 10, 1921, in Wisconsin to Ackley and Estella Duranty Brogan. He married Dorothy Lamping. She preceded him in death in 1996.
He is survived by a niece, Barb O'Donohue of Lincoln; great-nephews Tom O'Donohue of Lincoln, Brian (and Kim) O'Donohue of Lincoln and Todd (and Cathy) O'Donohue of O'Fallon, Mo.; along with several other nieces, nephews, great-nieces, great-nephews, great-great-nieces and great-great-nephews.
He was also preceded in death by two sisters, Mary Slater and Lucille Britton, and one brother, Francis Brogan.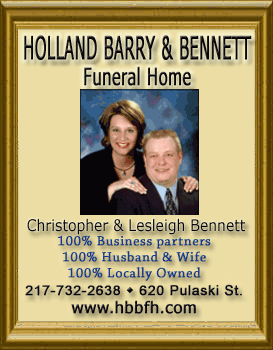 He was a member of Holy Family Catholic Church and a longtime member of the Knights of Columbus.
He was an avid fan of Notre Dame, the Chicago Bulls and the Chicago Bears.
Click here to send a note of condolence to the Brogan family.