Ina Carter

Send a link to a friend
[February 02, 2010] LINCOLN -- Ina Lyon Carter, 73, of Lincoln, died Sunday, Jan. 31, 2010, at The Christian Village with her family by her side.
Visitation will be from 11 a.m. until 1 p.m. Friday at Holland Barry & Bennett Funeral Home in Lincoln. Her funeral will follow at 1 p.m.

Burial will be in Harmony Cemetery, Beason.

She worked in the dietary department of Lincoln Developmental Center for 26 years until her retirement in December 1998.

She was born June 15, 193 in Clifty, Ky., the daughter of Thomas and Margie (Settle) Tooley. She married Charles Lyon in 1953 and later married Don Carter in 1978.

She is survived by three daughters, JoAnn Goff of Beason, Judy (and John) Ross of Beason and Lisa Francis (and Dave Jones) of Mason City; two sons, Thomas (and Patty) Lyon of Lacey Springs, Ala., and Timothy (and Loy) Lyon of Alto Pass; two stepsons, Jeff Carter of Lincoln and Mike Carter of Atlanta; three sisters, Betty Patterson and Patsy McCord of Hopkinsville, Ky., and Shirley Farmer of Calumet City; two brothers, Rufus Tooley of Chatsworth and Robert Tooley of Auburn, Ky.; 14 grandchildren; and 12 great-grandchildren.

She was preceded in death by her parents and two brothers, Lonnie Tooley and James Tooley.

She was of the Baptist faith.

Ina enjoyed being with her family and spending time with her grandkids and great-grandkids. She loved her flower garden and growing roses. She also loved Indian dolls and cardinal birds and had a special place in her heart for her Pomeranian dog, Baby.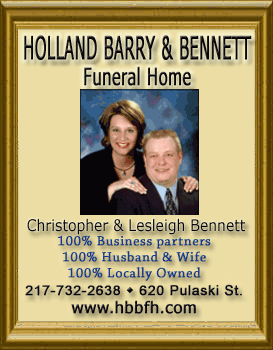 In her earlier years when she could still drive, she enjoyed going to Hardee's and Walmart and having coffee with friends.
For the last six years she battled Alzheimer's disease. She received excellent care at The Christian Village Memory Care Unit the two years she was there and was loved by all who cared for her there. For the last week she also had excellent care from Memorial Hospice. So, the family says, "Thank you for treating our mom, grandma, great-grandma, and all-around great woman with such respect and love."
Memorial donations may be made to The Christian Village Memory Care Unit or to Memorial Hospice and will be accepted at the funeral home.
Click here to send a note of condolence to the Carter family.