Marion 'Pops' Naugle

Send a link to a friend
[February 05, 2010] LAWNDALE -- Marion Howard "Pops" Naugle, 73, of Lawndale, died Wednesday, Feb. 3, 2010, at 8:28 p.m. at Hopedale Medical Complex, Hopedale.
Visitation will be 5-7 p.m. Friday at Fricke-Calvert-Schrader Funeral Home in Lincoln. His funeral will be at 10 a.m. Saturday at the funeral home, with the Rev. Robert Henderson officiating.
Burial will be in Lawndale Cemetery.
Mr. Naugle was a retired mechanic.
He was born April 12, 1936, in Lincoln to Howard and Erma Ackerson Naugle. He married Darlene Overbey Williams on March 1, 1974, in Lincoln.
He is survived by his wife, in Lawndale; eight children, Carole (and Michael) Hoss of Maryland, Cherie Merritt of Lincoln, Christie (and Richard) Huskins of Lincoln, Richard (and Cindy) Williams of Lincoln, Robert (and Tracy) Williams of Lincoln, Elaine (and Rick) Schaub of Lincoln, Doris (and Steve) Burge of Lawndale and Candie (and Ed) McCloud of Normal; two brothers, David (and Janet) Naugle of Lawndale and Ricky (and Tina) Naugle of Lawndale; one sister, Linda (and Sid) Petro of Lawndale; 16 grandchildren; and 13 great-grandchildren.
He was preceded in death by his parents and one brother, Gary Naugle.
He was a member of the First Baptist Church of Lincoln.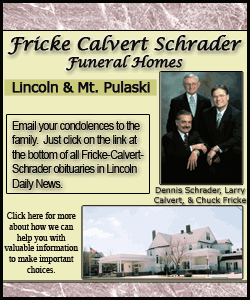 Marion enjoyed fishing, trains and cars. He loved to be with his grandchildren.
Memorials may be made to the First Baptist Church of Lincoln and the building fund for Hopedale Medical Complex.
Click here to send a note of condolence to the family of Marion Howard Naugle.