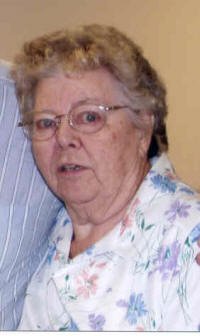 Edna Miller

Send a link to a friend
[February 04, 2010] LINCOLN -- Edna D. Miller, 85, of Lincoln, died Sunday, Jan. 17, 2010, at 10:45 p.m. at Memorial Medical Center in Springfield.
Visitation will be from 5 until 7 p.m. Thursday, Jan. 21, at the funeral home. The rosary will be recited at 4:45 p.m., prior to the visitation.
Her funeral will be at 10:30 a.m. Friday at Peasley Funeral Home in Lincoln, with the Rev. Jeffrey G. Laible officiating.
Burial will be in New Union Cemetery.
Mrs. Miller worked at Lincoln Development Center from 1967 until 1971 as a child care aide, then at Lehn & Fink from 1971 until she retired in 1988.
Edna Dorothy Miller was born Sept. 20, 1924, in Lincoln, a daughter of Ben and Coletha Seitz Donath. She married Burl Miller on Aug. 17, 1944, in Lincoln. He preceded her in death in July 1968.
She is survived by her son, Daniel (and Laura) Miller of Hurricane, Utah; two daughters, Sharon Aylesworth of Mount Pulaski and Margaret (and Darrell) Knowles of Lincoln; seven grandchildren, Toby Knowles, Travis (and Jamie) Knowles, Eric Miller, Brandi (and Pete) Merrill, Morgan Miller, Kathy (and John) Butcher and John (and Tricia) Aylesworth; 10 great-grandchildren; two great-great-grandchildren; and one brother, Paul (and Jean) Donath of Lincoln.
She was preceded in death by an infant son; two sisters, Alma Twardos and Rose Gipson; one brother, Ben Donath; one grandson, Bryan Miller; and a son-in-law, Robert D. Aylesworth.
She was a member of Holy Family Church, Eagles Auxiliary, Moose Auxiliary and Veterans of Foreign Wars Auxiliary.
She graduated from Lincoln High School.
Edna enjoyed playing cards, quilting and loved the outdoors, planting and harvesting her garden each year. She especially enjoyed spending time with her grandchildren and great-grandchildren.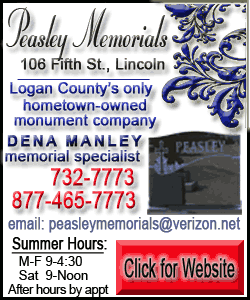 Memorials may be made to American Diabetes Foundation or a charity of the donor's choice.
Click here to send a note of condolence to the Miller family.