Edith Tholen

Send a link to a friend
[January 26, 2010] LINCOLN -- Edith E. Tholen, 90, formerly of Lawndale, died Monday, Jan. 25, 2010, at 11:40 a.m. at her daughter's home in Lincoln.
There will be no visitation.

Private family services will be at Old Union Cemetery, with the Rev. John E. Nelson officiating.

Mrs. Tholen had been a bookkeeper at Sears Roebuck and Co. in Lincoln.

She was born June 1, 1919, in Lincoln to Fred and Mattie Williams Routson. She married Herman J. Tholen on Sept. 23, 1944, in Emden. He preceded her in death on May 7, 1982.

She is survived by one daughter, Carol (and Jerry) McAfee of Lincoln; two grandsons, Patrick Langley of Lincoln and Danny (and Lori) Langley of Middletown; four great-grandchildren, Megan Wolcott and Zachary, Paige and Jacob Langley; and one great-great-granddaughter, Jayden Wolcott.

She was also preceded in death by one brother, Stanley Routson. She was the last of her immediate family.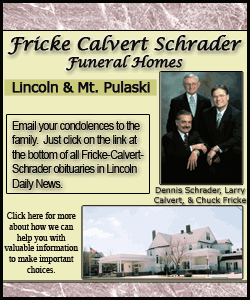 She was a member of St. Peter Lutheran Church of Emden.
Memorials may be made to St. Jude Research Hospital or the Humane Society of Logan County.
Click here to send a note of condolence to the Tholen family.