Kenneth Howe

Send a link to a friend
[June 12, 2010] MOUNT PULASKI -- Kenneth E. Howe, 74, of Mount Pulaski, died Saturday, July 10, 2010, at 5:23 p.m. at his home.
His graveside service will be at 1:30 p.m. Wednesday at Lake Bank Cemetery, rural Mount Pulaski, with Donald Goodman officiating.

There will be no visitation.

Fricke-Calvert-Schrader Funeral Home in Mount Pulaski is handling arrangements

Mr. Howe worked with heavy equipment for Iron Engineers Local 965 out of Springfield.

He was in the U.S. Marine Reserve.

He was born Feb. 1, 1936, in Latham. His parents were Kenneth E. and Theatrice Howe Sr.

He is survived by three daughters, DeLisa Heard of Tyler, Texas, Debra Graham of Chandler, Texas, and Jacqueline Carter of Longview, Texas; two brothers, Gene Febus of Bloomington and Richard Howe of North Carolina; and four grandchildren, Joshua Howe, David Howe, Caleb Carter and Christopher Heard, all of Texas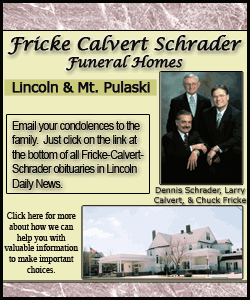 He was preceded in death by his parents; one son, Steven; two sisters, and three brothers.
Memorials may be made to Shriners Children's Hospital.
Click here to send a note of condolence to the Howe family.