YMCA notes

Send a link to a friend

[July 02, 2010] Parents, are you starting to think about a preschool program in the fall? Or what will your child do before or after school in the fall? The YMCA has a program for both? The YMCA can also help you apply for tuition assistance. Call and find out how.

For information on Lincoln Area YMCA programs and events, visit the downtown office, 604 Broadway St., Suite 1; call 735-3915; or visit www.lincolnymca.org. The YMCA Activity Center is at 719 Wyatt Ave.
YMCA Before and After School -- Early registration begins July 6. Late registration begins Aug. 5, and rates increase then. Stop by the YMCA office to register early.

YMCA Preschool registrations are now being accepted for children ages 3-5 years. Morning and afternoon sessions are offered. Also being offered are Preschool PE, Lunch Brunch and the new Tiny Artist program. Preschool programs begin Sept 7. Don't delay your registration. Space is limited.

YMCA Golf Clinic is for kids in kindergarten through eighth grade and will be at the Lincoln Elks Club golf course. Session B will be Aug. 2-5, when participants will be taught the fundamentals of golf, including club choice, form, stance and swing technique. Lessons will be customized to improve each participant's skills. Deadline to sign up is July 15.

YMCA Swim Lessons, Session C will be July 19-29 at the Lincoln Elks Club pool. Lessons are available in either the morning or the evening. This program is for kids 6 months to 12 years with various skill levels. Some classes have started waiting lists, so don't delay; sign up today.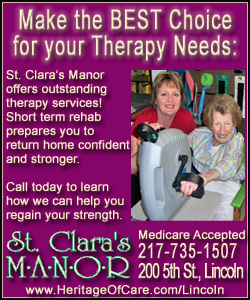 YMCA Softball -- This program July 12-15 is designed to help girls develop the skills necessary to excel at the game of softball. Participants will learn the fundamentals to becoming better hitters, better defenders, improving their throwing and catching abilities, and also base-running skills. The program will be at the Lincoln Community High School softball field.
Summer Field Trip Blast -- YMCA staff members will take the children (maximum of 13 children) to the Splashdown water park for a day of fun. The kids will need to bring a sack lunch, proper attire for the trip, sunblock, water bottle and a spare change of clothes for the ride home. This program will meet for pickup and drop-off at the Y Activity Center on Wyatt Avenue. Groups will be going on July 16 and Aug. 6.
[Text from file received from Lincoln Area YMCA]